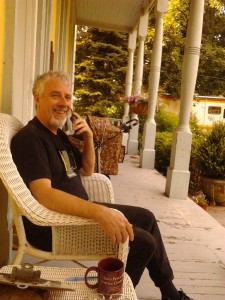 TUES, WED & THURS nights at 8pm EDT (July 10-12, 2012):
Looking at my collection of Direct Democracy Tour camera phone shots, I am amused at how often I catch C.T. talking on the phone. My theory is that when he takes calls to consult on consensus process, I often see that as a break in our work and I whip out the phone  for candid shots around whatever house we're staying in. It's getting to be some kind of photographic meme, however.
We have regular callers and one-timers. Regulars call from Occupy hot spots in the Bay Area, New York, Boston, Atlanta and Philly. Food Not Bombs activists call from Boston, Orlando and Nairobi.
Some of those calls are not activists asking how to deal with disruptors, but radio and podcast interviews.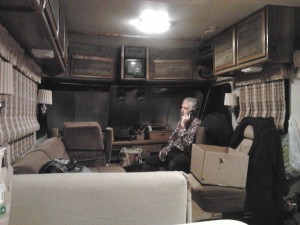 C.T. gives great radio through his four year old cellphone. Sometimes we trek into a studio for a face to face interview. This week, it's Skype.
This week OPN, Other Possibilities Network, is doing a series of livestream interviews with C.T.. OPN host Mark ("Artister") will break up the nights with the following topics. I know many of you know the resume details, but for those who don't, here they are:
•Tuesday night the topic will be Overview and Observations from a Life in Activism. C.T. has been a central organizer of the post-Clamshell Coalition for Direct Action at Seabrook, Food Not Bombs, ACT UP, the Pledge of Resistance and more. C.T. has been to over five-hundred protests. He's been arrested over fifty times in non-violent direct actions, and was beaten unconscious by police four times. Most recently he and I have been full time with the Occupy movement.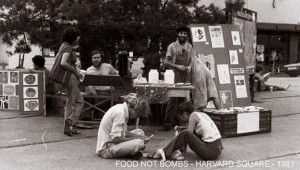 •Wednesday night will be a detailed discussion about the Food Not Bombs movement. C.T. and others from his Seabrook affinity group co-founded the first Food Not Bombs collective house and started the meme that has gone around the world. With Keith McHenry he is co-author of Food Not Bombs: How to Feed the Hungry and Build Community.
•Thursday night will be an in depth discussion on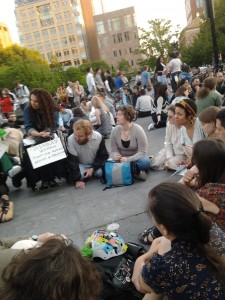 Value-Based Consensus Decisionmaking. As an activist and organizer, C.T. developed an interest in how groups can work together better. He has attended thousands of meetings, sometimes over one-thousand in a single year. 2012 is the twenty-fifth anniversary of his seminal work, On Conflict and Consensus, detailing how to practice Value-Based (formerly "formal") consensus. C.T.'s latest book, Consensus for Cities, outlines how to use the affinity group/spokescouncil model to practice consensus in groups of up to one-hundred thousand or more. Since October, 2011, C.T. and I have been on our Direct Democracy Tour, offering workshops in consensus and organizing to Occupy groups.
All shows begin at 8pm EDT. Artister's invitation: "Please join us for what is certain to be an informative and educational week!"
In our "back office" this week, we're organizing a Consensus: Body and Soul workshop with the Black Cat Collective/Anarchist Bookstore in Dallas/Ft. Worth, Texas. If you're in Texas or can get there this fall, and want to join in, contact me, Wren, at fiopa@consensus.net!
Also, we'll be attending the Communities Conference at Twin Oaks in Louisa, Virginia. We'll be presenting something but we haven't visioned that yet. Twin Oaks organizers are keen to have an Occupy focus, and I know at least one Occupy activist who's chompin' at the bit to merge the Intentional Communities movement with Occupy. Since C.T. and I have been pointing out lately that Intentional Community is where we've seen consensus go the deepest, this merger isn't a crazy idea. See you there Labor Day weekend, August 31 through September 3, 2012!
—WT
Please join our Hippie Chick Diaries fan page on facebook.