Here are just some of the shinies I'm preparing to sell online. These are not my creations, but an excellent collection of lead safe diamond etched pewter, mostly from Oregon. My own designs to follow!
We bring these and more to our festival appearances around the Mid Atlantic region. Watch the site's Heathcote Earthings page for our upcoming dates!
Please join our Hippie Chick Diaries fan page on Facebook!
Subscribe to this blog's RSS feed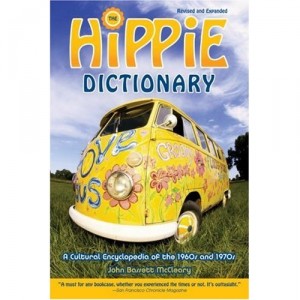 My dear C.T. Butler just visited, climbing my snowy, slippery slope without falling once. It was our first chance to see each other since my birthday. He presented me with a topical, sweet and very useful gift: The Hippie Dictionary, by John Bassett McCleary.
This gift is topical because, wha duh, I'm Hippie Chick Diaries, and because I love hearing C.T.'s many elaborate stories about protests, organizing and general Food Not Bombs hi-jinx.
It's a sweet gift because I've toiled so many years to downplay gift-giving in my life and train those around me not to gift me or expect material things from me on the holidays. So when I do receive a gift, it's from the heart and, aww, touching!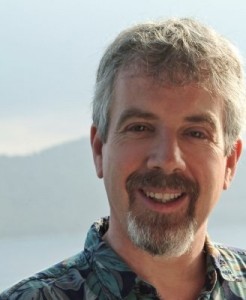 And this gift is oh, so useful because when C.T. tells me his stories, with names, locations and acronyms I'd know if I'd only been paying attention the last forty years,  I can whip around, check my handy dandy Hippie Dictionary, and know half of what he's talking about, instead of my usual thirty-five percent!
It's already come in handy: C.T. mentioned some controversy around the spellings—hippie vs. hippy. He said he'd run into Stephen Gaskin, founder of The Farm, an Intentional Community in Tennessee. The Farm was established in 1968 when a caravan of fifty hippie-with-a-y school buses, led by Gaskin, parked there and the group began a Community that's still going strong (a mecca for midwifery education and a bioregional center for Gaia University). According to C.T., Stephen claims to have coined the term hippy and insists that the proper spelling is with a y. Apparently the topic came up because Stephen is working on his autobiography, to be entitled Hippy.
My birthday gift came in handy because, even though I've visited The Farm, I didn't recognize Stephen Gaskin by name. I made all the connections above when I happened across him on page 166 of my dictionary!!!
C.T. has his own story about the origin of the word, without claiming to have coined it. And of course, he disagrees with The Hippie Dictionary on this. "You see? They have all the elements, the Haight, the Diggers, commerce, but they got the story wrong…" C.T.'s version includes monied Hippie shopkeepers who formed their own business association, Haight Independent Proprietors. Chicken/egg; Cart/horse, armpit/deodorant. I believe everybody on this. Next week, I'll post a story revealing that I invented the word, and how I managed this, not being born yet.

So why, you may or may not be wondering, do we at HCD spell ourselves with an ie? It's because we researched it and ie is more common, which is way boring when you're a counter culture, but desirable when you're a website. We also bought the domain name spelled with a y and rerouted it to our site. In twenty years, it might be fashionable to spell it with just an i alone on the end, topped by a cute little heart. These things are culturally owned, collectively decided, not the creations of their creators, but of their perpetuators. Now I'm off to finish my organic sunflower butter sandwich, before I get these keys completely gooey.

Please join our Hippie Chick Diaries fan page on Facebook!

From Wren: I've invited Heathcote's newest member to write periodically about her adventures, coming from a mainstream life into Intentional Community.  Here's her introductory installment!—WT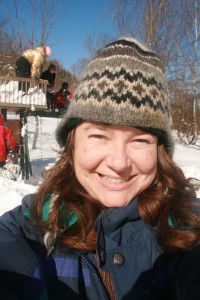 Hey, all, I'm Natureglo.  I have lived now at Heathcote Community for three months – three months of developing new relationships, making new discoveries of who I am and not, learning to work with my hands and dream the dreams I was always too timid to try and longing for such a group to share them with.  Here I sit in a private, dream-come-true, gorgeous straw bale apartment at Polaris with a stunning view of the woods on this beautiful snow flurried morning.  I've left my comfortable, yet solitary existence mostly devoid of people, yet it was peaceful….but cut off from the world receiving my gifts.  I was growing older and something was missing.
Now I'm adjusting to a community household filled with life, vigor and sometimes the pitter-patter of children's feet above my head.  I just remember to keep a smile on my face and recall how wonderful it is to be free like those children and to be at liberty to express energy.  This is in contrast to the graveyard silence of my past apartment living situation.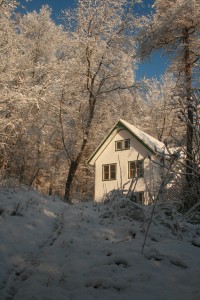 I've also left my fundamental religious community of twenty plus years, and have finally recently left my last link to them through my job as a religious ed school teacher and am totally free, yet unemployed and without the usual comfy salary and health benefits I've relied on for years.
I'm free yet at times scared…liberated….exhilarated, yet sometimes unsure of how to begin my dreams.  I want them now.  I'm realizing them partly by working with Wren in her Open Classroom program as an apprentice and through working with other Heathcoters on a holistic living magazine .  Yet, there have been a few emotional breakdowns, insecurities, fears and a few meltdowns.  But mostly I know without a doubt that in coming here, the universe has granted my desires through a whirlwind exodus from my suburbanite lifestyle and the particularly abusive community I had clung to for so long.  Continuing forward at the speed of light, feet sometimes skidding, barely touching the ground, at times bloodying a toe or two, here and there, I am at Heathcote with big dreams.
Where will I be a year from now?  Five years?  I have the opportunity of my lifetime.  And now I look wildly around wondering where to begin.  I went this morning into our forest to cry out to the trees, animals, Mother Nature – the Universe.  I let my tears fall to the ground and with open spread out arms called out addressing Mother Nature, "Thank you for the lessons you teach us – me!  Thank you Heathcote for having me live on your land.  I come with little by the standards of most of the world's economy.  I come with sparse pockets, but I offer my heart, my mind, my hands, my good health, my youth…take me, teach me to work with you.  Teach me to work with my fellow Heathcoter's to make an expanded and even more sustainable community.  Help me to make my dreams come true here and to help others realize their dreams."  I allowed my tears to fall into the snow, and a nearby patch of earth around a stump.  I wanted the earth to feel and receive my salted tears and absorb my prayer into her soils.  "Aaaaaaaah", I breathed out the infamous meditation call for the name of God, standing with arms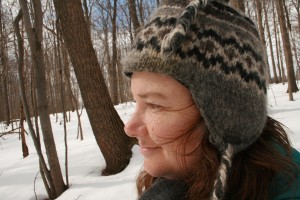 outstretched.  I am one whom leaving mainstream society, deeply and now desperately wants to learn to live off the land.  I am thankful for this community of Heathcoters who have lovingly and willingly taken my hand and we will together walk this journey and watch as our lives continually unfold.  I look forward to sharing more of this journey with you all!  Namaste!
By Natureglo
Please join our Hippie Chick Diaries fan page on Facebook!
__________