Subscribe to this blog's RSS feed
Wren on February 14th, 2010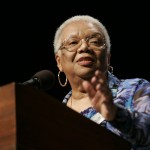 Former Maryland poet laureate Lucille Clifton has died. This poem seems a perfect way to pause and raise my tea mug to her. I met her briefly in Columbia, Maryland and I was moved, not just by her poetry and narrative style, but by the use of Lucille's dramatic training in her delivery of each poem. I picture her bringing this one up from the belly:
won't you celebrate with me
won't you celebrate with me
what i have shaped into
a kind of life? i had no model.
born in babylon
both nonwhite and woman
what did i see to be except myself?
i made it up
here on this bridge between
starshine and clay,
my one hand holding tight
my one hand; come celebrate
with me that everyday
something has tried to kill me
and has failed.
–Lucille Clifton
As a writer, I've often joked that I never have to make anything up. I have the laziest muse on record. I just stand in one place and crazy, goofy, fringe things happen. Or maybe my eyes are just open.
I've certainly lived an interesting life. I grew up in a haunted house, been "out and proud" and "genderfluid", been to film school, been a widely published performance poet, and I live in what some would call a "commune." I lead homeschoolers in classes that take place up in trees and in the creek. And now I'm planning a child as a polyamorous coparent. It's not my stories but the rules of life that I'm making up as I go. This is my diary.
You can use tags to follow many threads through my entries over time–coparenting, intentional community, veganism, love, sustainability, etc.
I've come to realize that living at Heathcote, a cooperative community in Maryland, has helped me to walk my talk more authentically than if I lived on my own. Read about my community experiences here on Hippie Chick Diaries. I'll add content to help you explore if Intentional Community is right for you, such as reviews of communities I visit and links to communities and information organizations.
Watch for regular features of this site, like the bumper sticker of the week, and emails to and from my favorite online social network friend, onewitheverything. Coming soon is my list of great names for a band. Feel free to email your suggestions! Some posts will be longer articles with photo galleries and links to explore topics further.
In this first post I have to sing big love to Paul, of Co Op Tek, and Roni, of Skinny Minny Media, for walking me blindfolded through website development. I'd trust you guys in traffic! Thanks for your patience and excitement on this project.
Here we go! Keep that Hippie Chick bubble off the ground!
–Wren Tuatha