Wren on January 13th, 2010
Note from Wren Tuatha: HCD was asked to pass on this press release for this fun event due to our participation last year, as Heathcote Earthings. We had loads of fun (I got to touch a snake–edgy for me! ) but be aware that this animal event may not be as animal rights oriented, as some HCD readers might hope. We were very concerned about the sale of sugar gliders by Pocket Pets, Incorporated, and the display of wild animals in a loud, crowed venue. Otherwise, we had a blast and made some great new friends!
For Immediate Release Contact: Jeanne Emge
410-374-5964 or 800-882-9894
www.worldofpets.org
Celebrate the World of Pets Expo & Educational Experience, January 29, 30, 31, 2010
Thousands of items from parrot perches, live performers, workshops, pet first aid and more!
(Timonium, MD) – In today's world, pets aren't just animal companions, they're often the favorite family members with their own personalized dinner ware, special sleeping places, custom diet, fitness plans and more. Some pets are simply pampered, others perform for their own and their companions' amusement, still others are working animals with a serious job to do.
You can see all of these animals – along with a host of toys, treats and tricks – at the World of Pets Expo, Friday, Saturday and Sunday, January 29, 30, 31, 2010 at the MD State Fairgrounds:
"We've got something for everyone from the serious pet enthusiast to the casual pet admirer, including a chance to show off your pet in the "Parade of Breeds" explains Jeanne Emge, President of Premier Events, the producer of the Expo. "Exhibitors will fill the 165,000 square foot Cow Palace with thousands of products and services for pets. Some of the country's foremost authorities in the pet industry will present seminars and demonstrations covering practically every aspect of pet care and training. It's fun and educational – just a great day out for all ages! This is probably the best $$ value for family entertainment & education. Pets are welcome too! See all the details at www.worldofpets.org "
Expo shopping offers hundreds of booths with a wide variety of exhibitors featuring thousands of items – everything imaginable for your pet and for pet lovers. From pet essentials, to pet training products, to pet-themed home décor, the World of Pets Expo is the place to be if you are a pet lover.
Pets covered in the seminars include dogs, cats, birds, fish, reptiles, ferrets and other animals. In addition to the shopping extravaganza and the seminar series, there will be continuous entertainment and demonstrations by nationally known pet organizations, an AKC Dog Agility Trial, interactive/educational presentations with live animals, a Parade of Breeds and more! Highlights include:
World of Cats ACFA Cat Show – presented by Hidden Paw Cat Club
AKC Dog Agility Trial – presented by Oriole Dog Training Club
Extreme Reptile Exhibit
Classic K-9s – Performing World Record High Jump, Grand Prix Racing and High Speed Relays
Wild World of Animals – Educational and Fun Reptile Presentation.
Johnny Peers Muttville Comix
Free Seminars
Intensive Workshops for the Serious Enthusiast – Pre – registration required.
Boogie Woogie BowWows – Dancing w/Dogs
Grooming Demos – learn technique from professionals
Gerbil Show – presented by the American Gerbil Society
And much more – see www.worldofpets.org for the full show schedule!
Expo hours are Friday, January 29, from 2 pm to 8 pm, Saturday, January 30, from 10 am to 8 pm and Sunday, January 31, from 10 am to 6 pm. Admission is $9 for adults, $5 ages 5-12 and FREE for children under age 5. Tickets available at the door. Ticket sales cash only. Heated facility and Great Food!
Entry forms for the Cat Show and Workshops are available on-line at www.worldofpets.org
###
Join our Hippie Chick Diaries fanpage on facebook!
Subscribe to this blog's RSS feed
Wren on January 5th, 2010
I imagine that the people around me tire of hearing me mention my dislike of winter on a daily (hourly) basis, so I'll just sigh and get busy.
I've printed diagrams for about twenty beginning origami figures, planning to get my Open Classroom students busy on something other than paper airplanes, which are quickly approaching winter on my dislike list. (See how I'm not mentioning it?)
The internet has some crazy impressive origami. We'll see how long the kids' interest lasts.
_____
I've been nursing my ten year-old Whitfield Quest pellet stove, which seems to be slowly expiring. It was barely adequate to heat my space to begin with and pellet stove technology has improved efficiency in recent years. It wouldn't be the worst thing to replace it, but I love the idea of building things to last and then keeping them going. I've been repairing my car long past the time when others might have traded up.  Still, fuel efficiency and a warmer hut are whistling a tune in my ear…and around my raised shoulders…and my numb fingers and toes…
_____
Heathcote Community has so many new members, and applicants in the pipeline! I need to whip out my social calendar and spend some time getting to know folks! I remember when we numbered around seven or eight. Now at dinner, I step back from the crowd and count twenty-three or so, including members new and old, kids, interns, significant others, etc. What abundance! Thank you all for what you bring. I should invite you all up to huddle around me and keep the frigid draft off me until say, May…Could we just hibernate in a puppy pile?
_____
Wren on January 4th, 2010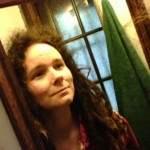 This morning I sold my dog, set my goats free in the State Park, smashed my favorite mug and cut my dreadlocks off. Then I opened my eyes, stretched into my freedom and heard my choices chirping. I sat with my tea, kissed the dog, fed the goats, tied back my hair and began the story of my life again. These things I choose: the snow that's falling anyway, even though it knows my position on this; the solitude of my pajamas until another dark; a phone and a tray of brownies. This work I take up: clearing off the kitchen table; filling the box to mail to him; asking myself three questions that bloody me at the edges…This morning I sold my dog. I might do anything next. But most likely, I won't surprise you.