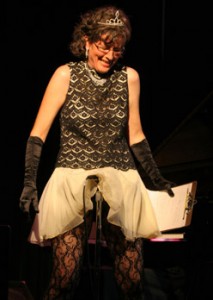 In my world, Permaculture education and comedic Lesbian folk music are a luscious combination, like chocolate and peanut butter. Remember those Reese's commercials in which one person is walking down the street eating a chocolate bar and someone is walking towards them eating from a jar of peanut butter and they're both so self absorbed that they don't see the other, collide, and their food gets combined, thus delivering them to a higher level of Nirvana? Well, Jamie Anderson probably has a song about that.
I've been keeping it in the back of my mind that I'd like to get Jamie to Heathcote Community for our House Concert Series, and now that chocolaty muse has collided with Heathcote's exciting new opportunity: An adjoining piece of land which we've always held dear is for sale, giving us a chance to greatly expand our organic farming and Permaculture education programs. Oooh! Peanut butter!
The Anacker Land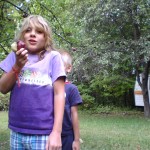 Heathcote Community was founded in 1965 when Bill and Margaret Anacker, members of the School of Living, sold  a 37 acre parcel of their land to SoL as a headquarters for the magazine Green Revolution and as a  homesteading demonstration site. As a 1960's & 70's style hippie commune sprouted and grew on the land, Bill and Margaret were very involved, mentoring young folks in homesteading and sustainability skills. The community overlapped onto other parts of the Anackers' land and the community evolved into a wimmin's land  through the 80's and eventually a mixed queer & straight community of settled members. Over time, Heathcote acquired parcels we call the Farmhouse land and Cabin land, or, Back 70, both of which had previously been the Anackers', and which helped us expand our membership and unify our little valley.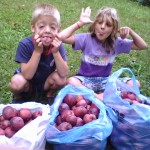 Now with Margaret passed on and Bill needing eldercare, the Anacker family is selling the 24 acre parcel on which Bill and Margaret homesteaded for so long. This land would give Heathcote our first substantial ridge top acreage, suitable for gardening/farming we haven't been able to do down in our narrow valley and flood plain. This would allow us to expand our Permaculture education, internships and community membership, and provide crops for donation, Community Supported Agriculture (CSA) and/or market gardening, as well as allowing Heathcote to increase our food self-sufficiency.
We have some substantial pledges from large donors, starting us on our way. We're partnering with Fusion of Baltimore as our fiscal sponsors. We've formed a fundraising committee and seek broad community support for bringing the Anacker land into the community.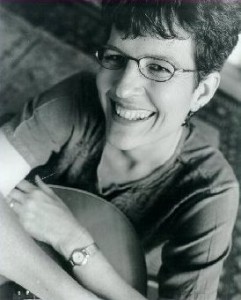 Jamie Anderson
Award winning singer-songwriter/parking lot attendant Anderson plays tunes that go from sexy to silly, witty to whimsical.  She first hit my radar when Louisville DJ and Yer Girlfriend vocalist Laura Shine played her music at a time when we were first launching our Fairness Campaign there. She's been on my playlist ever since!
She draws from many influences. As her website explains: She's country without the big hair, bluegrass without the whiny tenor, blues without selling her soul and rock without the dirty t-shirt.
Besides songs that range from laugh out loud to tugging on your heartstrings, Jamie is adept at improving witty, thoughtful intros and stories. Her shows are great entertainment on many levels!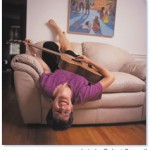 More nibblets from her site:
When Jamie isn't touring, she's taught songwriting, guitar and other classes at Duke University, arts centers, privately and at festivals all over the country. She has a chapter in Songwriting and the Guitar, a book that also includes Paul Simon, The Indigo Girls, Joni Mitchell and others. Jamie is a freelance writer whose articles and CD reviews have appeared in Acoustic Guitar, Curve, SingOut! and more.
Anderson's awards include Finalist (USA Songwriting Competition, "Your Mama Scares Me," 2008), the Jane Schliessman Award for Outstanding Contributions to Women's Music (Women in the Arts, 2006), Best Folk Album (The Independent, A Promise of Light, 2005), Honorable Mention (Great American Song Contest, "Beautiful," 2005), and others that only her mama cares about.
Save the date: May 22, 7pm. And stay tuned to Hippie Chick Diaries for more articles with links to Jamie's songs and details about our silent auction and plant sales!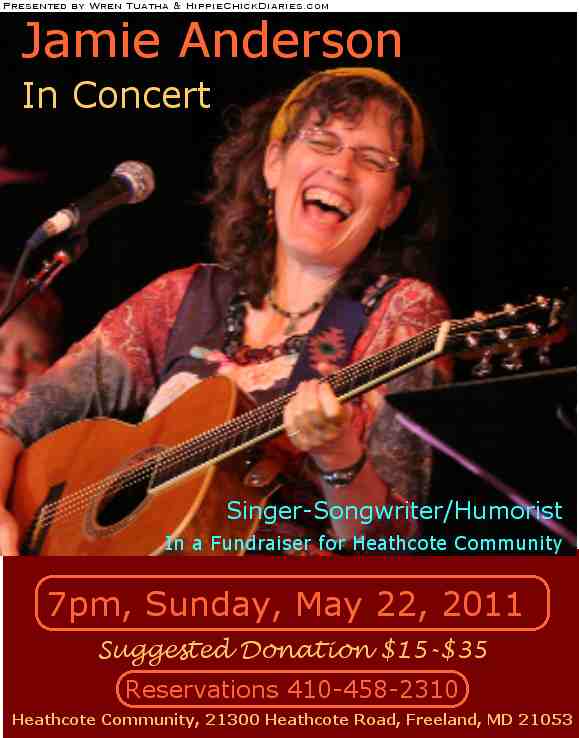 Please join our Hippie Chick Diaries fan page on Facebook!
Subscribe to this blog's RSS feed