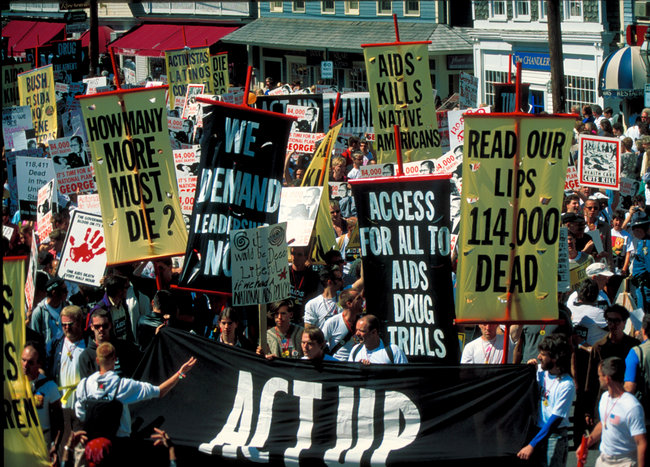 Ahh. I've been occupying the home of some friends while they're away. Ahh. C.T. and I have a place to ourselves for a whole month! This is sweeter than raw, unfiltered, local honey to this weary hippie chick. I'm just starting to relax some muscles that got habitually tensed on tour. But already, it's clear that we need to get to work fundraising and lending support to some groups that want to take our consensus workshops.
In the soup of phone calls, internet searches and planning sessions, a friend sent the above photo to C.T. with a link. The picture apparently appears in the book, Victory, by Linda Hirshman.
Dear friend Jim noticed himself and C.T. among the ACT UP protestors and brought it to our attention.
If you've only known the C.T. of the silver hair and goatee, this pic will be a shocker! He's the one holding the black ACT UP banner, standing under the "read our lips…" sign. How about all that long, dark hair!!!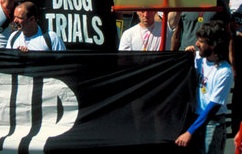 The book review places this picture at Kennebunkport, Maine in 1991. I calculate he would have been about 37 then, ten years after cofounding Food Not Bombs in Cambridge; a year or two before the birth of his son Tim. In fact, the other friend named in the photo is Tim's future godfather, Jim, who is behind the letter U on the black banner.
C.T. has told me many stories of his time with ACT UP, organizing, teaching consensus and activism, the family ties with friends like Jim and his partner, who has since passed. He had told me stories about the Kennebunkport protest, aimed at Bush Sr. So finding this photo is a real treat, fleshing out the stories.
It inspires me to scan some photos that C.T. has from protests at the Nevada Nuclear Test Site, etc. That will have to wait until travels are done and we unpack our photos from storage. I even have fun shots of me marching for the Equal Rights Amendment. And do I remember having pictures of my goat Tabitha on the steps of Louisville City Hall, campaigning for the Fairness Amendment? Ahh yes, scanning will happen…
It may seem strange to wax nostalgic about the act of protesting. But like C.T. in his days with Food Not Bombs, ACT UP, Pledge of Resistance and other movements, I made close ties with my brothers and sisters in protest. Most of the guests at my very private handfasting to my then partner Patti were my Fairness family. That rite/right of passage, on National Coming Out Day, held deep meaning for us as we fought to have sexual orientation and gender identity added to the lists of protected classes, even as our own alderman told us to our faces that he had no queer people in his district. Protest pictures are our family album.
—WT
Please join our Hippie Chick Diaries fan page on facebook!