Wren on September 26th, 2010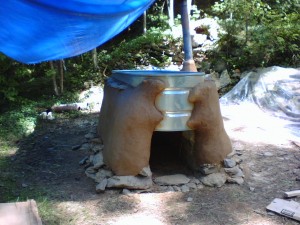 After weeks of working long hours at the fairs, I got to reconnect with my tribe in a sweet way at last night's hot tub party!
Our wood fired cob hot tub, with two beaver profiles sculpted at the firing end, was made as part of a workshop. Gotta love education at Heathcote! I have other  workshop ideas, like How to Give Wren a Much-Deserved Massage, and Preparing and Serving All of Wren's Favorite Comfort Foods for Maximum Consumption Before She Passes Out in Bliss… I strongly feel that education should be kept relevant.
Heathcote Community members have been engaged all weekend in a retreat lead by students in Laird Schaub and Ma'ikwe Ludwig's two year facilitation course. We are tackling the question of how to support our education programs while also maintaining Heathcote as a relaxing, safe home for our residential members.
Our regular hot tub parties are a shiny way to pamper ourselves and deepen our shared quality of life. Last night, Paul tended the fire for several hours until the water temperature was just right. We arrived in waves and soaked five at a time, making jokes about the lobster not knowing it's boiling alive. The kids were in and out, one teenage host served brownies, judging herself harshly on the results of her baking. Nick arrived with his guitar and the chords of The White Album started wafting up with the campfire smoke.
In the deep darkness, while the moon was still tangled in the trees, I could only see my tribe members in silhouette. I noticed that I wanted to take some photographs but I knew my cameraphone wouldn't have done those silhouettes justice. While I was aside cooling off, I couldn't quite hear what people were discussing. They could have been any community, at any time in history. A fire, a soak, some music, the woods, we were every tribe while we were being ourselves.
We chatted. We sweated. We hydrated. We rotated in and out of the hot tub and left in waves, as we had come.
And now, the next morning, it is time for me to return to the retreat meetings, the head space and this specific moment.
Subscribe to this blog's RSS feed