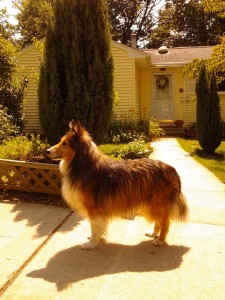 "It's a dangerous business, going out your front door…
…you step onto the road, and if you don't keep your feet, there's no knowing where you might be swept off to." — JRR Tolkien, The Lord of the Rings
Whew. These days are packed with emails, skypes, livestreams, and every possible electronic communication. Our cellphones ring and ring. There's a request in every exchange. In between, C.T. and I talk and talk and talk about what's coming next. What is coming next, you might ask?
Yeah, we don't know.
The temptation looms large to just go back to New York, embed with OWS and get this consensus thing right. But the call of California hasn't quieted. Lack of money limits our choices. Maybe we should just stay in DC and get jobs.
Conventional wisdom would ask, "What do you want?" But it isn't that simple. We are the only people teaching what we're teaching, Value-Based Consensus. So we can't just tell people to get someone else to do it, nor can we quickly train other teachers.
Nor can we simply walk away from a direct democracy model which appears to be the one that truly does interrupt privilege and oppression and allow for all voices to be heard. It's needed at this moment, more than ever.
Part of what we teach are paradigm shifts that support consensus, including a shift from, "What do I want?" to, "What's best for the group?" The stakes are high. In this case, "the group" is the world, and particularly the activists who would battle economic injustice and climate change.
Strategically, we'd like to be writing books to help the teaching (and funding) go deeper. That's a yet another direction.
These are baking days.
Subscribe to this blog's RSS feed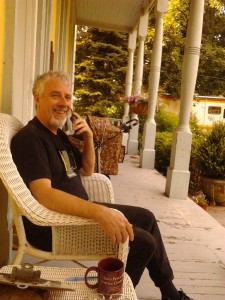 TUES, WED & THURS nights at 8pm EDT (July 10-12, 2012):
Looking at my collection of Direct Democracy Tour camera phone shots, I am amused at how often I catch C.T. talking on the phone. My theory is that when he takes calls to consult on consensus process, I often see that as a break in our work and I whip out the phone  for candid shots around whatever house we're staying in. It's getting to be some kind of photographic meme, however.
We have regular callers and one-timers. Regulars call from Occupy hot spots in the Bay Area, New York, Boston, Atlanta and Philly. Food Not Bombs activists call from Boston, Orlando and Nairobi.
Some of those calls are not activists asking how to deal with disruptors, but radio and podcast interviews.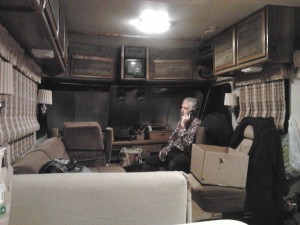 C.T. gives great radio through his four year old cellphone. Sometimes we trek into a studio for a face to face interview. This week, it's Skype.
This week OPN, Other Possibilities Network, is doing a series of livestream interviews with C.T.. OPN host Mark ("Artister") will break up the nights with the following topics. I know many of you know the resume details, but for those who don't, here they are:
•Tuesday night the topic will be Overview and Observations from a Life in Activism. C.T. has been a central organizer of the post-Clamshell Coalition for Direct Action at Seabrook, Food Not Bombs, ACT UP, the Pledge of Resistance and more. C.T. has been to over five-hundred protests. He's been arrested over fifty times in non-violent direct actions, and was beaten unconscious by police four times. Most recently he and I have been full time with the Occupy movement.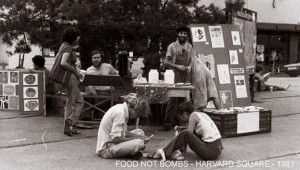 •Wednesday night will be a detailed discussion about the Food Not Bombs movement. C.T. and others from his Seabrook affinity group co-founded the first Food Not Bombs collective house and started the meme that has gone around the world. With Keith McHenry he is co-author of Food Not Bombs: How to Feed the Hungry and Build Community.
•Thursday night will be an in depth discussion on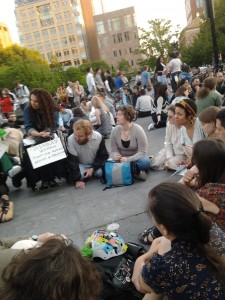 Value-Based Consensus Decisionmaking. As an activist and organizer, C.T. developed an interest in how groups can work together better. He has attended thousands of meetings, sometimes over one-thousand in a single year. 2012 is the twenty-fifth anniversary of his seminal work, On Conflict and Consensus, detailing how to practice Value-Based (formerly "formal") consensus. C.T.'s latest book, Consensus for Cities, outlines how to use the affinity group/spokescouncil model to practice consensus in groups of up to one-hundred thousand or more. Since October, 2011, C.T. and I have been on our Direct Democracy Tour, offering workshops in consensus and organizing to Occupy groups.
All shows begin at 8pm EDT. Artister's invitation: "Please join us for what is certain to be an informative and educational week!"
In our "back office" this week, we're organizing a Consensus: Body and Soul workshop with the Black Cat Collective/Anarchist Bookstore in Dallas/Ft. Worth, Texas. If you're in Texas or can get there this fall, and want to join in, contact me, Wren, at fiopa@consensus.net!
Also, we'll be attending the Communities Conference at Twin Oaks in Louisa, Virginia. We'll be presenting something but we haven't visioned that yet. Twin Oaks organizers are keen to have an Occupy focus, and I know at least one Occupy activist who's chompin' at the bit to merge the Intentional Communities movement with Occupy. Since C.T. and I have been pointing out lately that Intentional Community is where we've seen consensus go the deepest, this merger isn't a crazy idea. See you there Labor Day weekend, August 31 through September 3, 2012!
—WT
Please join our Hippie Chick Diaries fan page on facebook.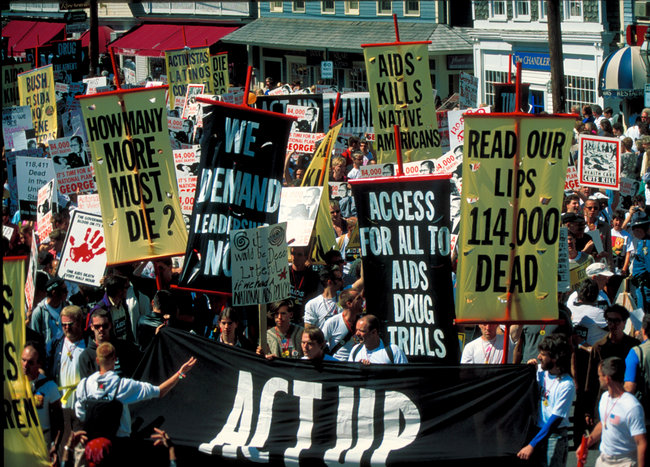 Ahh. I've been occupying the home of some friends while they're away. Ahh. C.T. and I have a place to ourselves for a whole month! This is sweeter than raw, unfiltered, local honey to this weary hippie chick. I'm just starting to relax some muscles that got habitually tensed on tour. But already, it's clear that we need to get to work fundraising and lending support to some groups that want to take our consensus workshops.
In the soup of phone calls, internet searches and planning sessions, a friend sent the above photo to C.T. with a link. The picture apparently appears in the book, Victory, by Linda Hirshman.
Dear friend Jim noticed himself and C.T. among the ACT UP protestors and brought it to our attention.
If you've only known the C.T. of the silver hair and goatee, this pic will be a shocker! He's the one holding the black ACT UP banner, standing under the "read our lips…" sign. How about all that long, dark hair!!!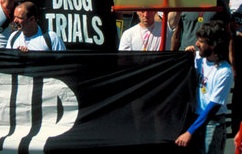 The book review places this picture at Kennebunkport, Maine in 1991. I calculate he would have been about 37 then, ten years after cofounding Food Not Bombs in Cambridge; a year or two before the birth of his son Tim. In fact, the other friend named in the photo is Tim's future godfather, Jim, who is behind the letter U on the black banner.
C.T. has told me many stories of his time with ACT UP, organizing, teaching consensus and activism, the family ties with friends like Jim and his partner, who has since passed. He had told me stories about the Kennebunkport protest, aimed at Bush Sr. So finding this photo is a real treat, fleshing out the stories.
It inspires me to scan some photos that C.T. has from protests at the Nevada Nuclear Test Site, etc. That will have to wait until travels are done and we unpack our photos from storage. I even have fun shots of me marching for the Equal Rights Amendment. And do I remember having pictures of my goat Tabitha on the steps of Louisville City Hall, campaigning for the Fairness Amendment? Ahh yes, scanning will happen…
It may seem strange to wax nostalgic about the act of protesting. But like C.T. in his days with Food Not Bombs, ACT UP, Pledge of Resistance and other movements, I made close ties with my brothers and sisters in protest. Most of the guests at my very private handfasting to my then partner Patti were my Fairness family. That rite/right of passage, on National Coming Out Day, held deep meaning for us as we fought to have sexual orientation and gender identity added to the lists of protected classes, even as our own alderman told us to our faces that he had no queer people in his district. Protest pictures are our family album.
—WT
Please join our Hippie Chick Diaries fan page on facebook!