Wren on September 26th, 2013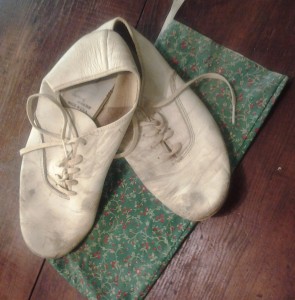 Dancing shoes, on the wall
Above your bedside
Saw it all as
We performed our pirouette
I have owned these white leather folk dancing shoes for twenty-five years. I haven't worn them for twenty three years. I bought them at Christmas Country Dance School in Berea, Kentucky. I was there with my then partner, Patti. She was a pro; I was new to folk dance and lacking proper footwear. 

Fleshes fused as
The flicker of the candles
Threw upon the wall
A single silhouette
Tu es dan ma coeur et dans ma t?
Having made several of her own dance costumes, Patti lovingly crafted a carrying bag for my shoes. I was to never wear them outside, but change once I arrived at a dance. The bag is green, my favorite color. These shoes have lived in this bag for twenty-five years, always existing either with my other shoes or in the special box that came to house the other dance costuming Patti made for me—my leg straps dripping in Morris bells, sewn with ribbons colors representing the four elements, if I recall. She sewed matching ribbons on the sailor cap that had been my dad's. I was quite a gender-bending Morris dancer.

Dancing shoes, we have loved
On distant beaches
Where the winter
Never reaches, there we fell
In those dancing days I wore these white leather shoes at contra dance, English country dance, Scottish, but never Morris; That's way too butch for soft white slippers. What did I wear for Morris?

Dying swan, on the dawn
You danced before me
Though your eyes were dark
And stormy, I stood still
Qui peut dire le faux et le r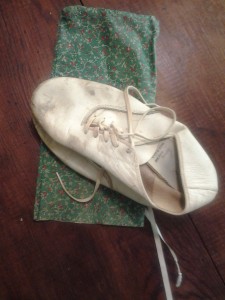 In the impromptu store at Christmas School there weren't many shoes to choose from. I didn't want white, always looks dirty. I didn't want leather. We were trying to go completely vegetarian. And they didn't have my size. These are one size too large. But I wanted dancing shoes more than I needed them to be perfect. So they became mine.

Dancing shoes
Though the distances divide us
There's a paradise inside us
We can't lose
But they were stepchild shoes, even then. When Patti and I were married I bought peach colored ballet shoes to match my peach colored dress. Those shoes were my size. And yet, for twenty-five years, this green drawstring bag and the white leather dance shoes within have followed me from house to hut to here. They have meant something to me. Identity, memory, embodiment. Now, I keep the meaning and free these shoes to belong to another dancer.

Me and you
Dance a 'Pas de deux'
Forever and I pray you never
Shed your dancing shoes
—lyrics by Dan Fogelberg

Subscribe to this blog's RSS feed
Wren on September 25th, 2013
With the horror of the attack on people at Nairobi, Kenya's Westgate Mall on Saturday, I was relieved to learn that Food Not Bombs activist and IndyMedia photographer Douglas Rori was not hurt. But when we called him to check on his safety, we learned just how close he came to being in the maylay. (More story below.)
It turns out he was at Westgate Mall an hour before the shooting began, completing an errand my partner C.T. had sent him on! C.T. Butler, cofounder of the original Food Not Bombs collective, met Doug Rori at the IndyMedia Convergence in 2007. They've enjoyed a long distance, father-son relationship since then, with Doug initiating FNB work in Kenya, and C.T. sending donations from the United States.
Late Friday afternoon in Washington, DC, C.T. jumped up from a nap, remembering that he needed to rush to wire money needed that day for the transport cost of food for a group of kids.
I've written before about Doug's inventive program to feed kids living in Nairobi slums and AIDS orphans who live on the streets. If he held a public feeding as Food Not Bombs chapters in America do, he would likely have a food riot on his hands, the need is so great. The forceful would take the food for themselves, subjecting Doug and other FNB volunteers to violence and leaving nothing for the children.
So instead of a public show, Doug advertises a free photojournalism class for kids. He conducts it in an enclosed courtyard or other location out of sight. The kids have a great time building skills and learning how to tell their stories. When it's done, everyone eats a great meal.
Doug has established a couple of different locations for his enclosed workshops/feedings. And unlike American FNB members who can simply drive their food to the site of a feed, Doug has no car and has to be clandestine. He often has to hire taxis, at great expense, to deliver the hot food to the sites.
The donation C.T. had wired was to pay for the taxi. With C.T.'s call to alert him, Doug went to the Westgate Mall to pick up the wired money immediately. An hour after he left, the shooting started.
As a photojournalist for IndyMedia, Doug was interested to get as close as he safely could. The photos at the top are what he was able to send us. Stay safe, Doug! Send more when you can!
If you would like to donate to Doug's project, visit:
http://awellfedworld.org/kenya
Wren on September 22nd, 2013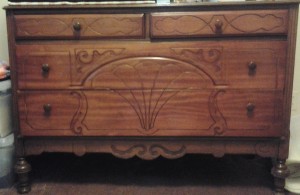 Drawers really add up. You look at a dresser and it has four drawers. You don't think to do a room to room survey to find out how dressers and filing cabinets and desks and sideboards collaborate with the kitchen to really run up your drawer tally. You don't go room to room, because, why would you?
Neither did I.
Then came today, when my partner and I had been out running errands with our dog, who loves being "on the away team." When we got to our door and it opened without a key, we could plainly see we'd been burglarized.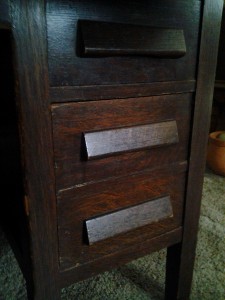 The predominant visual was that every drawer was pulled out, some tossed on the floor, contents scattered.
Yes, we called 911 and followed instructions to leave the house and sit in our locked car until the police came. Three officers in three separate patrol cars arrived and blocked off our cul-de-sac. They circled the outside, then surveyed inside, guns drawn. They gave us the all clear and had us survey for missing items. We tried and tried, but we couldn't come up with a single item that was missing.
Our possessions were so lame the police didn't even give the complimentary lecture on how to make our home more secure. If I made enough to pay taxes, I might feel ripped off. I thought they always gave the lecture.
Now that I've given you the down and dirty on the deed, back to the interesting stuff about drawers. Room by room, I followed in the footsteps of my burglar, imagining what he or she thought while pulling out every single drawer in our file room.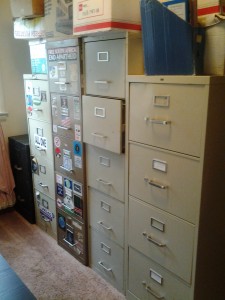 Yes, in the drawer tally I have an unfair advantage because we have a file room. I have drawers and drawers of my writings, and C.T. has saved statistics and other information on every Food Not Bombs feeding, activist event, theatrical production, and consensus workshop he held—I mean feeding head counts, menus, promotional fliers, etc., and date books going back to 1983. We've been moving his archives from house to house, planning to write his memoirs.
What did our burglar think, opening a file drawer to find dog costumes, or pulling out my middle desk drawer to find little gemstone dinosaurs? Well, I like to think that I'm unique, interesting, even thought provoking. But this burglar was probably not moved. Nothing in these actions was about me.
Our neighbors were a flurry with updates and advice in the hours after our break in. It turns out a house in the opposite cul
de sac was also broken into around the same time, and again, nothing taken. People theorized what the burglars might have been looking for—cash, illegal drugs, prescription drugs (oxy-anything), small electronics. Was it a gang initiation or training exercise?
We will almost certainly never know. And as our friend Ross, who owns the house, was here fixing the broken front door, I marveled that I really was not very upset. Acknowledging that events could have gone very badly, up to and including death, this was a mild event, a warning to be careful.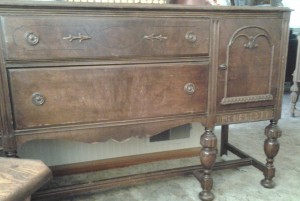 What struck me? Apart from reflecting that the event could have gone down in many different ways and those I care about might have been hurt (read: dog), I have fixated on the realization that, without the task of going from room to room closing drawers, I might never have noticed that there are sixty drawers in this house. What does it mean? It feels like just a poetic little factoid, maybe a message to scale down my possessions further, maybe a cute,  meaningless parallel in the year that C.T. is turning sixty years old. Maybe I am just pondering myself, hurling through 2013 in this little house on spaceship Earth, clinging to all the drawerspace I can maintain.
What am I storing? Clearly nothing a burglar wants.