Time flies! It looks like I've been neglecting my blog duties while we transition from our Direct Democracy Tour to a summer schedule.
Summer for us looks like touring flea markets and festivals with my jewelry, a trip to the ocean, dance camp and a consensus workshop in Dallas/Fort Worth, Texas…About a month in each place—July in Washington, DC; August in Maine; September in Texas.
But June is all about jewelry on Staten Island.
I've been partnering with some of my friends at Ganas Community here to feature earrings and necklaces I made for Heathcote Earthings, and had left over from that business. I've been putting my collections front and center, on the sidewalk outside of Every Thing Goes Clothing on Bay Street. For most of the month I've been there two days a week. But now that we're getting to the end of our stay on Staten Island, I've increased my days there and added a couple of other events around town.
Just when I've cultivated a loyal following of repeat customers, it's time to go! Figure…
Here are the remaining dates for Every Thing Goes Clothing (thrift & vintage) at 140 Bay Street:
• TODAY! Saturday, June 23
• Tuesday, June 26
• Wednesday, June 27
• Thursday, June 28
• Friday, June 29
In addition, I've arranged two other jewelry set ups at Staten Island events:
• Sunday, June 24—Staten Island Flea Market
• Saturday, June 30—March of Dimes Arts & Crafts Festival, Clove Lake Park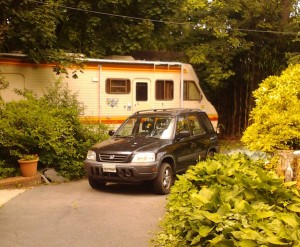 Our travels continue to be true adventures, with unexpected events around every corner. Yesterday, we learned that the Magic Box, our current Honda CRV, needs many more repairs than is practical for a long range vehicle. We'll be selling her her on the island and proceeding into the summer with just Serenity, our thirty-four foot Bounder rv. How long will we be without a car? It's a surprise!
Currently, our jewelry/recreational tour looks like:
• July in Washington, DC, visiting friends and looking for work
• August in Maine and New Hampshire, visiting family and attending Dance New England, with a trip to Assateague worked in
• September in Texas, teaching Consensus: Body and Soul to the Black Cat Collective and others, with a possible trip to Washington State to help facilitate the sign language interpreters' society's annual meeting
—WT
Please join our Hippie Chick Diaries fan page on facebook!
Subscribe to this blog's RSS feed