As I finished making signs to post around Heathcote, advertising my porch sale, my dog Tuatha took advantage of my distraction to slip away for a little "me time" adventure.
Tuatha knows this distresses me. I want to keep him safe, away from car wheels and copperheads. But I have to admit that, on a hot June day like today, I'd love to slip away and play in the stream, too.
So I loaded my signs and myself into the car and went looking for him. When he runs away, I always have to talk to myself to remain calm and methodical.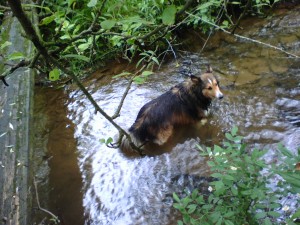 Once when I let my anger express itself in driving down the road much too fast, I ran over a groundhog. I felt horrible. And, of course, I realized that it could have been my own lost dog that I killed in an out-of-control moment.
And today I remembered that awful moment as I talked myself into calm, remembered that I've always found him quickly in the past, that he's much more woods-savvy than I give him credit for, and that I can help him best by breathing and staying connected to my surroundings.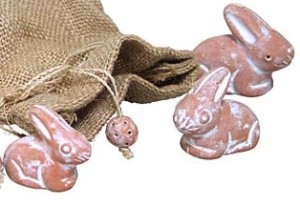 The Universe likes to reinforce these messages, apparently. As I drove around looking for him, driving at a reasonable speed, a rabbit in the road had one of those squirrel moments and zig zagged under my car. But I was in control and managed to not injure it. Later, on a dirt road, a box turtle was well camouflaged as it walked in the rut. If I weren't paying attention, I would have flattened it. Instead I moved it.
Hares and tortoises. I get it. Even The Universe speaks in cliches .
Of course, my dog was safe in the bowl of Heathcote the whole time. and I caught up with him at our usual rendezvous point, Bill Anacker's house. He was dripping wet from cooling off in the stream. I couldn't be mad at him. Okay, I was still a little, but that's my stuff…
This is the second time in a week Tuatha has snuck off. I am slow to get the message, but I wonder if there's a way I can help him cool off while staying safe at home. He loves to play in the hose, but if I could find a little yard sale kiddie pool, he could self select. How about that, Tuatha?
Please join our Hippie Chick Diaries fan page on Facebook!