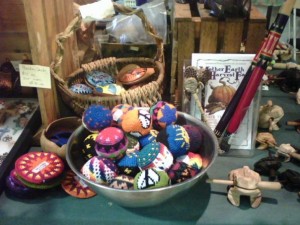 Buy a business or buy a necklace, I always say. Well, this is the first time I've said it and it's not very witty, so I guess I won't make a habit of repeating it. But those are your choices!
So many of my friends through Hippie Chick Diaries, Heathcote Community, Spoutwood Farm, Common Ground on the Hill, and other connections have come out to Heathcote Earthings' many festivals and supported us. We've enjoyed our mission of bring handmade, fair trade goods of natural materials to the Mid-Atlantic region.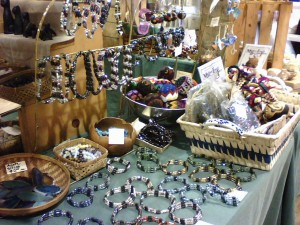 Now I am shifting to new education and writing projects, focusing on simple, sustainable living and social technologies such as consensus decisonmaking. I'm cashing out of Heathcote Earthings as a fundraiser for our new Social Technology Toolbox Summer Camp and its scholarship fund!
The remaining inventory and infrastructure of my festival business is on display at Heathcote Community in northern Baltimore County, Maryland, for two weekends only! I'll wheel and deal on armloads of gemstones, handmade musical instruments, incense, buttons, bumperstickers,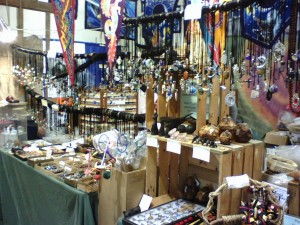 scarves, purses and of course, my handmade jewelry. Even the tables are for sale!
These photographs were taken during rare quiet moments in my booth, usually before or after events. I was too busy to document my little shop getting swamped with customers, so you'll have to take my word that we were very popular, with great-selling collections. Some particular items you see in the photos might be sold out but you get a feel for our store and merchandise. Click on the image for a larger version.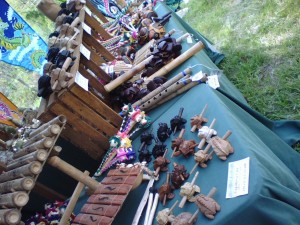 This porch sale will take place for two weekends only, June 10-12 and June 24-26 for the brief hours of 10 am to 2 pm. It will focus on new merchandise:
diamond etched pewter pendants
handmade earrings
handmade pendants of gemstones, metal, wood, seeds, recycled glass, lampwork glass, etc.
handmade rings
bracelets
gemstones hand wrapped in sterling silver
handmade musical instruments
handmade batik flags & pennants
frog mating calls
hackysacks
scarves
purses
cloth shopping bags with great artwork
funny buttons
bumper stickers
tumbled gemstones & fossils
incense & burners
car stickers with beautiful designs
beads—CRAFTERS COME SEE!
hand carved onyx figurines
Nearly everything is made out of NATURAL OR RECYCLED MATERIALS and is FAIR TRADE.
VENDORS and FLEA MARKET DEALERS will want to check out this inventory. Or if you have or have considered a FESTIVAL BUSINESS or CRAFT SHOP, this inventory will have you on your way.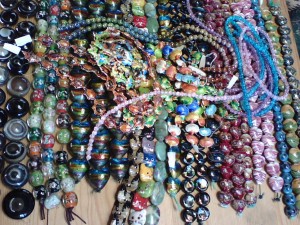 Because I had to pack up every item that didn't sell after each show, I was very motivated to limit my stock to proven popular sellers. No experiments here!
And because I was seller and the business' buyer, I had the great pleasure of only stocking products I was excited about and wanted to sell. I could screen for high quality at affordable prices and go for fair trade because the overhead for a festival business in comparatively low. This means that, whether you want to buy the business or just one necklace, it's worth the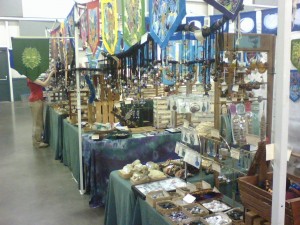 trip to my porch sale!
The space in enclosed, so we're open, rain or shine! Thanks to Heathcote interns Anna and Lauren for helping me finish that job!
HIPPIE CHICK DIARIES PORCH SALE
JUNE 10-12 JUNE 24-26
10 AM TILL 2 PM
21300 HEATHCOTE ROAD FREELAND MD 21053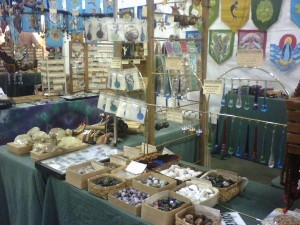 GPS, Mapquest or email for directions, curiocoast@comcast.net
__________
I'll also be offering a few used collections, specifically over fifty used VHS titles, CD's and DVD's.
All proceeds from the Hippie Chick Diaries Porch Sale go to support my newest project with C.T. Lawrence Butler, our Social Technology Toolbox Summer Camp! Half of the sale's income will be earmarked specifically for the Toolbox Camp's scholarship fund!!!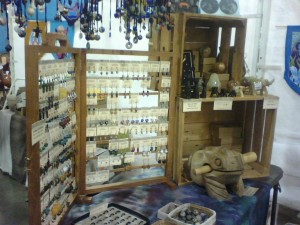 As I say goodbye to colorful batiks and hackysacks, the earrings and necklaces I lovingly made (remember necklace salads?) and all those buttons and bumperstickers that made us laugh, I want to thank the many friends, partners and community mates who helped out with Earthings, a little or a lot. I know I'm forgetting people, so remind me! Here's my list:
Greg Newswanger
John Fox
Bob Geissel
C.T. Butler
Regina Tassone
Rita Jane Leisure
Kwame Bidi
Karen Stupski
Davi Post
Gloria Brooks
Juji Woodring
Carol Seddon
Ana Phillips
Paul Phillips
Kathy Landers
Erika Kretzmer
Nick Corso
Iuval Clejan
Devin Barto
Robyn Jacobs
Harriet Moon
Theresa Foti
Charles Curtiss
Ursa Woodring
Avin Newswanger