Wren on September 26th, 2013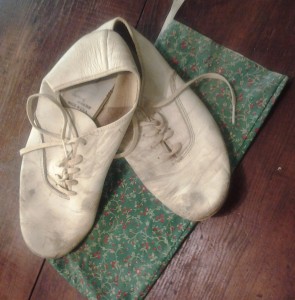 Dancing shoes, on the wall
Above your bedside
Saw it all as
We performed our pirouette
I have owned these white leather folk dancing shoes for twenty-five years. I haven't worn them for twenty three years. I bought them at Christmas Country Dance School in Berea, Kentucky. I was there with my then partner, Patti. She was a pro; I was new to folk dance and lacking proper footwear. 

Fleshes fused as
The flicker of the candles
Threw upon the wall
A single silhouette
Tu es dan ma coeur et dans ma t?
Having made several of her own dance costumes, Patti lovingly crafted a carrying bag for my shoes. I was to never wear them outside, but change once I arrived at a dance. The bag is green, my favorite color. These shoes have lived in this bag for twenty-five years, always existing either with my other shoes or in the special box that came to house the other dance costuming Patti made for me—my leg straps dripping in Morris bells, sewn with ribbons colors representing the four elements, if I recall. She sewed matching ribbons on the sailor cap that had been my dad's. I was quite a gender-bending Morris dancer.

Dancing shoes, we have loved
On distant beaches
Where the winter
Never reaches, there we fell
In those dancing days I wore these white leather shoes at contra dance, English country dance, Scottish, but never Morris; That's way too butch for soft white slippers. What did I wear for Morris?

Dying swan, on the dawn
You danced before me
Though your eyes were dark
And stormy, I stood still
Qui peut dire le faux et le r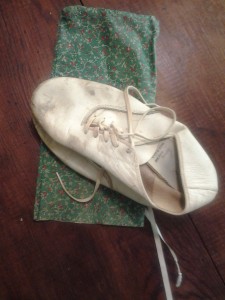 In the impromptu store at Christmas School there weren't many shoes to choose from. I didn't want white, always looks dirty. I didn't want leather. We were trying to go completely vegetarian. And they didn't have my size. These are one size too large. But I wanted dancing shoes more than I needed them to be perfect. So they became mine.

Dancing shoes
Though the distances divide us
There's a paradise inside us
We can't lose
But they were stepchild shoes, even then. When Patti and I were married I bought peach colored ballet shoes to match my peach colored dress. Those shoes were my size. And yet, for twenty-five years, this green drawstring bag and the white leather dance shoes within have followed me from house to hut to here. They have meant something to me. Identity, memory, embodiment. Now, I keep the meaning and free these shoes to belong to another dancer.

Me and you
Dance a 'Pas de deux'
Forever and I pray you never
Shed your dancing shoes
—lyrics by Dan Fogelberg