Wren on September 14th, 2012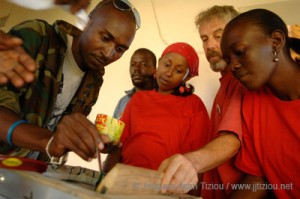 It's always a good day when I wake up to surprise jpegs in my inbox. If you've kept up with Hippie Chick Diaries for any time, you know that photos are often the seeds of posts.
Here we see my partner, C.T. Butler, in Nairobi, Kenya, teaching a workshop in how to build a three color silkscreen press.
It was 2007 and C.T. was attending the IndyMedia Convergence in advance of the World Social Forum in Nairobi. When there's a World Social Forum,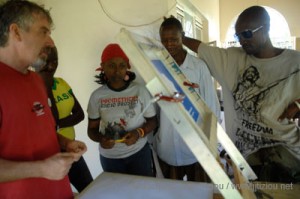 IndyMedia holds a convergence at the location, for a week or so before the event, teaching independent journalists and activists from around the world how to get their stories out using materials at hand. For example, workshops include building radios and transmitters from locally available materials.
When their training is done, the journalists and activists are a well-bonded collective that then covers the World Social Forum.
C.T. attended the Nairobi convergence at the invitation of IndyMedia (aka IMC). C.T. is cofounder of the movement Food Not Bombs. The two groups have many cross connections and cross pollinations. Like Food Not Bombs before it, IndyMedia is leaderless, focused on local groups, horizontal in structure, consensus-based, etc.
C.T.'s primary focus was teaching consensus to convergence participants, but his experience in the early days of both FNB and IMC taught him do-it-yourself skills like building a silkscreen press by hand. C.T. often built and used makeshift silkscreen presses in his activism on the east and west coasts of the US.
Activists used the silkscreens to make three color posters, fliers and t-shirts at low cost. Many people are walking around today in Food Not Bombs t-shirts screened by C.T.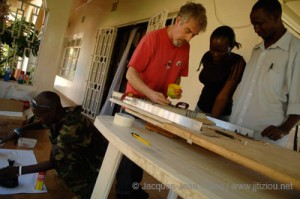 But when C.T. tried to teach this DIY information-sharing tool with activists in Kenya, it was not so easy. Several cultural differences got in the way. First, The most of the African students had not ever held tools like screwdrivers and hammers. Not a universal part of the upbringing.
Second, there was no Home Depot to go and buy all the supplies and tools. Instead, Nairobi marketplaces had little shops that specialized. There might be an entire shop for screws. That's all they would have. New, used, mystery screws, chocolate screws, Martian screws…they would have it all, but C.T. found himself going to a dozen different shops,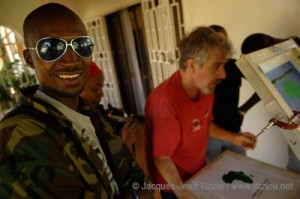 sometimes more than once. Lumber was an odyssey unto itself.
I came into these photos because our friend Doug Rori, in the camouflage jacket, is working with us on a new Indiegogo campaign to fund his work with A Well-Fed Kenya. (More on A Well-Fed Kenya in upcoming posts!) I asked him for pictures of the two of them together, to help tell the story of our collaboration.
I love that what he found were pictures of the silkscreen workshop. C.T. had told me the story several times and it captures my imagination to realize the ways we can take our power back. If we can mass produce our own newspapers, t-shirts, posters, etc., with found materials, then we control our message, we own our stories. This is the profound power of the silkscreen press workshop, like all the others during the IndyMedia Convergence.
[Activists in Mexico made entire copies of C.T.'s book, Food Not Bombs: How to Feed the Hungry and Build Community, in Spanish, on a silkscreen press. His copy is one of his treasured possessions!]
The students and C.T. made a press that day. And today Doug and I will launch our Indiegogo campaign to get the message out about a really amazing, holistic project that feeds many people and teaches them the skills of getting their own messages out every day. Stay tuned!