Wren on August 20th, 2012
No matter how you toil, no matter that you seek to serve, there comes a day when you wake up and realize: You're living in a fucking driveway.
Wait, that's just me.
Somehow, when we had our rv parked on larger parcels, I didn't experience self consciousness about living in a dumbed down Star Trek shuttle craft. But now that I'm sandwiched between two houses, parked in my friend's driveway, where a neighbor could look out their window and into mine, well, I feel a bit like that extra passenger riding the stick shift in a compact pickup.
I nearly have to hold my arms up to squeeze through the gate past the back of my rv Serenity, to go between the front and back yard.
And when my host wants to mow the front lawn, we have to lift the battery-powered mower high through the same passage.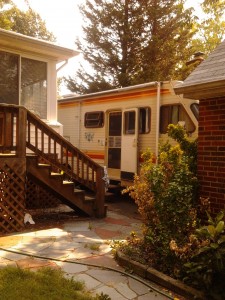 Today I realized that, to retrieve my camping gear, located in a lower compartment with its access door on the outside of the rv, I'm going to have to take Serenity off her hydraulic lifts and back her up several feet, then drive her back in position!
Imagine if you had to roll your entire house down the driveway ten feet to get into your attic or basement!
To keep some perspective, remember that rv'ing is just a form of camping. And when camping, tent or otherwise, everything takes longer, with strange extra steps, or an activity is just longer because it's awkward—trying to put your pants on in a tent while wondering if there are bears. [Yes, there are bears. Are they near you tent? I don't know. Your shirt is on inside out...]
But complaining that my particular circumstance isn't quite right is a pastime with me. It's not my dominant experience.
Generally, I am really enjoying our time here in Silver Spring, Maryland. Our hosts' backyard leads to a park with trails, soccer fields and lots of places for Tuatha and me to explore. Five kids with a soccer ball wore him out yesterday, much to his delight.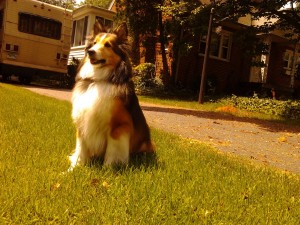 Tuatha and I also take extensive walks through the neighborhood. I've gotten used to urban/suburban living and almost never forget to bring a plastic bag anymore. The waste of dedicating an entire plastic bag to a few little pieces of Tuatha poo used to grind my gizzard. Now I'm glad I remembered and can prevent some neighbor's annoying discovery. I'm Wren Good Citizen!
Back to complaining then:
I've been boondocking here without my partner C.T. for a couple of weeks. He's been dancing, politicking, volunteering and generally huffing and puffing at Dance New England in New Hampshire.
While he's been gone, I've had trouble keeping the house battery charged and I appear to have run out of propane, which means no more fridge. Fun Fun. Thanks to my saintly patient hosts, my cold food is now in the house. We'll get more propane next week.
Ants continue to find their way in, but as long as they're not in the bed, we've made a livable deal: Some of them can stay, I'll continue to be lazy about wiping my counters and sometimes I'll squash large numbers of them with a napkin when I want to use the kitchenette as an office. Okay, livable for me…
Tomorrow I'll host my first overnight guest here in the driveway. Visitors are always surprised at Serenity's great size and expansive interior. When they see the galley, closets and bathroom they always remark, "It's just like a house!"
Mission accomplished. It is a motorhome…Maybe they were picturing a Chevy van with a mattress and some granola in the back.
Heathcote had an old trailer  that was home to many members through the years. It was no bigger than Serenity. Maybe if C.T. and I find land to live in Intentional Community again, Serenity will continue to house people for years to come.
In the meantime, we'll get that battery issue handled, refill the propane tank, get her all past her safety inspection and registration…C.T. plans to drive her down to Louisa, Virginia for the Communities Conference at Twin Oaks over Labor Day weekend.  While he and Serenity are traveling and teaching, I'll be working with my friends from Crystal Cottage at the Maryland State Fair!
Then, after our various toiling and serving, it's back to the driveway, plastic poo bags and suburbia!