Wren on August 12th, 2012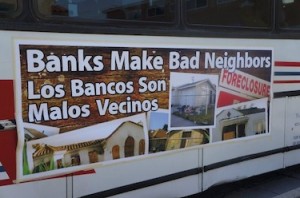 There are various posters cycling through my Facebook newsfeed that tell me there are more empty houses in the U.S. than there are Americans who need homes.
In a quick fact check on Google, I find out that, according to truthdig.com,  Amnesty International USA puts the statistic at five vacant houses per homeless person.
I am exploring my very personal relationship to this information. Since February of 2012, my partner and I have been on the road and, in fact, homeless. The short version of the story is that, while we were touring Occupy in November of 2011, our Intentional Community was dealing with zoning complaints by a neighbor. Instead of having a long, expensive legal process, the community decided to voluntarily, pre-emptively condemn several houses, including mine. Given that we were committed to our tour and that we had ongoing philosophical differences with some of our community mates, C.T. and I decided not to fight the decision, but to leave the community where I had lived and taught for sixteen and a half years.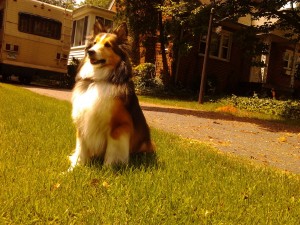 Since then, we've been traveling in Serenity, the rv we bought through donations and loans. And we've often stayed for extended periods with friends and supporters of our consensus work. There are two very different ways to view our experience of homelessness so far:
1) We are totally privileged. We have enough food, usually similar to what we ate in community. We've never slept on the street or in a shelter. We are able to have our dog with us. People donate to our expenses because of our status as consensus trainers. We
continue to find enough money to keep our phones on, and we usually have internet access. No one would compare our experience to the common idea of homelessness.
2) Homelessness in not a cliff one drops off of, but rather a sliding slope. Many of the homeless people we met in Occupy encampments told similar stories to that of my birth father, who spent the last nineteen years of his life on the street. At first he had a home but got behind financially. He left in the night without a word and began a period of years in which he stayed with friends and relatives, eventually wearing out his welcome until he was relegated to the streets. He received SSI for post-polio syndrome and traveled between tent villages in the warmer states. When he died on the street in L.A.'s Mission District he was fifty-three. His family hadn't heard from him in over a dozen years.
I don't expect to repeat my father's story. But without a regular home and address, everything gets complicated—getting mail, getting a job, etc. And many things are more expensive. I have a small kitchen on board Serenity but in community, I ate from bulk supplies, bought at wholesale. If I were on the street, the story would slide down the slope quite a bit more.
And what about that Amnesty International statistic?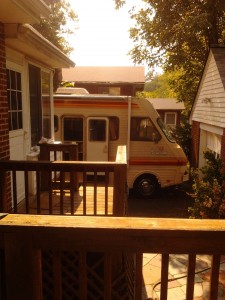 Right now, C.T. and I have parked our rv in the driveway of a friend in a DC suburb. It's a middle class neighborhood quickly becoming working class as the economy worsens. Just a few doors down from me, surrounded by houses that are valued at at least $150,000, is an abandoned house. It's a split level on a huge lot backing up to a park. The grass is three feet high. Several mature trees have fallen and no one has removed them. Some gutters have plants growing in them, others are angling down. The roof itself is sprouting greenery. In the back yard, people from the park have made paths to cut through to the neighborhood.
It's such a sharp contrast to the manicured lawns on either side. Is it a foreclosure? How long has it been abandoned? I have to admit, I've had my squatting fantasies. It's hard to see a roomy, nice house go to waste while I am driveway hopping.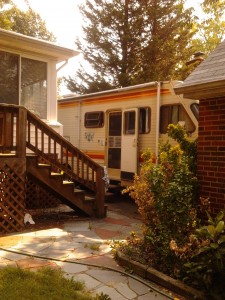 Starting in Baltimore, which has an amazing number of vacant homes. we started to hear talk among Occupy activists of occupying vacant homes. From his early activist days, C.T. has had some experience with successfully occupying vacant property. There are ways to go about it, knowing you'll be evicted, in order to make a statement. And there are different ways to go about it if you actually want to hold onto your squat for an extended time.
What are the chances that we could find and occupy a vacant home? I don't know. But every day, when I walk my dog past that abandoned house, I'm struck by the wasted resource, a building that some bank or landlord is hoarding. Or maybe that man owned it outright and just walked away for some reason. I don't know. But I'm becoming curious enough to investigate.
Anyone out there want to squat?
—WT
P.S., Please visit our Indiegogo campaign! We're raising funds to get Serenity, our motorhome, all registered and passed by the Maryland State Safety inspectors. See lots of perks for donating and pictures in our gallery: