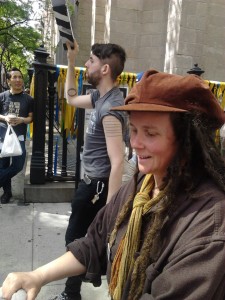 The first article I read when I got home put the number at one thousand. While I was marching down Broadway from Union Square to Wall Street, I passed an official counter who was up past ten thousand in his count. We were maybe half way to the destination, with throngs behind us.
Compared to what it could have been, the numbers at the May Day march were disappointing. But is was in fact over ten thousand. Sorry, press.
But newspapers' ability to count was magically restored in order to report, front and center, that there were thirty arrests.
No press article reported on the number of police, but I can attest that there were probably over a thousand of them, often closely flanking the Black Bloc. Good move.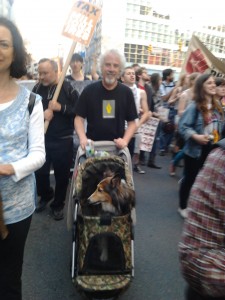 The tradition of funny math is an old one. I can remember being in marches for ERA in the seventies and no nukes and GLBT rights in the eighties and being baffled that police, parks departments and other government agencies would report that two hundred people came to a protest and the newspaper coverage would count one hundred thousand. I exaggerate, but the idea is that.
The new thing today is that the newspapers are now shrinking the numbers.
Not only that, editors and reporters actively write the story before they go to the scene. We've discussed it with them on site. Is this why you went to journalism school?
—WT
Please join our Hippie Chick Diaries fan page on facebook!