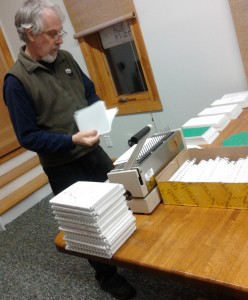 Many people wonder about the plastic binding of C.T.'s original book, On Conflict and Consensus. Originally a cost saving measure, C.T. has continued to order new printings with that spine because so many people have liked that feature, which allows them to easily lay the book open at meetings for quick reference.
What they probably don't ever consider is that C.T., Mr. Do-it-yourself, binds each copy himself, using a binder he has lovingly maintained and repaired since the 1980's!
The printer sends C.T. boxes with the book divided into sections, into which C.T. cuts holes with the machine. Then the machine stretches the plastic spine and the ordered sections are laid inside.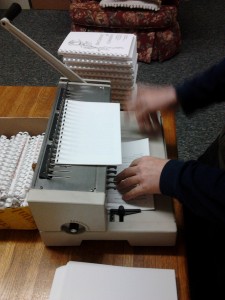 Each book takes a few minutes. And C.T. binds the copies in batches of two-hundred or so. Since its first publication in 1987, C.T. has sold well over ten-thousand copies, each of which he bound himself, spreading culture change by his own hands.
Through the years, he's sometimes accepted help and shown others how to bind the books. But they usually didn't bring the same mindfulness  to the practice, and would often mess up the cutting or get the sections in the wrong order, ruining several copies. That made for a very costly learning curve, so C.T. prefers to carry on the practice himself.
On Conflict and Consensus and Consensus for Cities are made possible by investors who cover the cost of printing, and some of our costs of distributing the book. So when a book is ruined, we still need to pay back investors for that loss. The investors are one reason why we can't give the books away, as we're often asked to do.
His other books, Food Not Bombs: How to Feed the Hungry and Build Community and Consensus for Cities,  are perfect bound. And when we go to place his titles on bookstore shelves, the proprietors complain about those plastic spines. They're afraid they'll break, rendering the stock unsellable. But we travel around, moving books from place to place, lugging them to events, and we have no problem.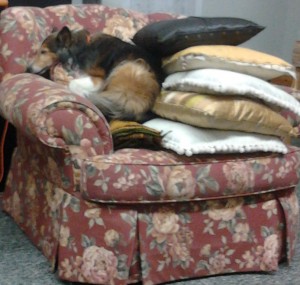 While we're on the road, we've had to guess at how many books to bring. And C.T. brought the binding machine with us. These photos were taken at our friends' house in Manorville, on Long Island, where we stayed for several weeks. Over several days, C.T. bound a couple hundred books while I organized our Consensus: Body and Soul workshop at WBAI. We had already hosted several Occupy activists from OWS, Philadelphia and Boston for a workshop in that very room.
Tuatha, of course, would spend his time enjoying every dog's dream chair, waiting for us to stop working and kick the ball around!
—WT