Wren on February 11th, 2012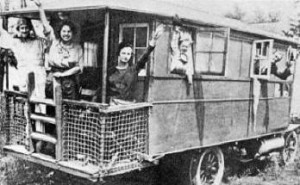 Think twenty-six is old for a motorhome? Well, you're right. I just had a mechanic tell me he could bring his dad out of retirement to work on my carburetor. But it could be worse! I enjoyed perusing these photos of hilarious motorhomes from history.
I seem to have this urge to choose the path that is most unusual, that forces me to stretch in ways those around me doubt I can. I don't know what karma I'm working out when I dive in. My plans often seem random to others, and yet, I can imagine no other path in the moment.
So, here I am learning about boondocking and electrical systems and gas generators. I'm making mental notes about rubberizing roofs and the proper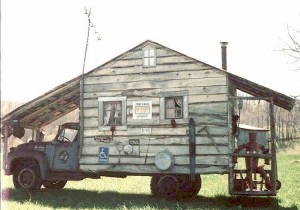 handling of propane tanks. And through each day as we promote our workshop and phone truck mechanics, I can't wait to get in there and tear out those twin beds, to lay down the found rug I bathed in the sun, to hook my car up to the tow bar.
So far, however, C.T. gets to play the butch one. He knows more about engines and electrical systems. So I play second fiddle, making confused looks and fetching tools.
Our dog Tuatha has taken to our motorhome Serenity like he's been waiting for this moment he whole life. We were worried about him, losing the only home he's ever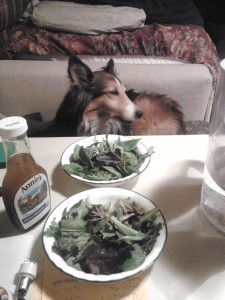 known. But Serenity is docked down in the valley, right on Heathcote's central business district. Tuatha can look out any of the windows and see familiar friends going about their days. He can hop out and pee a message to Chance, the golden retriever who lives here. He's an extrovert; He's in heaven.
And C.T.'s in heaven, too, not because of the opportunity to get lost in a thicket of tools and motor oil, but because he gets to upgrade to a gas stove! In our old cabin, we didn't have a proper kitchen. And C.T., as the family cook, had to work magic with a barely working electric hotplate. Now he's cookin' with gas, so to speak.
An hour after breakfast, he starts to muse, "What should we have for lunch?"  And in the middle of phone calls and internet searches, I hear him brainstorm the dinner menu.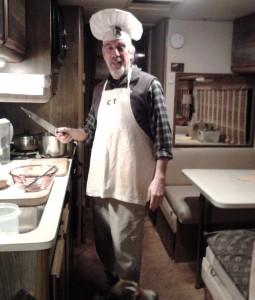 Remember, C.T. is cofounder of Food Not Bombs (note his spiffy FNB chef's hat). He was a professional chef for years, and wrote the FNB cookbook. Serenity, with its propane stove and storage for bulk supplies, is his rolling playground. Lucky me!
No, he doesn't wear the hat every time he cooks! We've been having fun moving our belongings in, and it was the hat's moving day…
I'd been reading that motorhomes have very limited power, compared to a house. So I wasn't surprised to find out that we need to learn what to turn off before turning something else on.
Since Serenity will be the mobile office for three consensus trainers, we'll have extra power challenges. How do we power several computers at once? The answer will
eventually be solar panels added to the roof. More on that another day.
For the moment, my computer is still in my old cabin, so now I must sign off and climb down into the valley to Serenity. I guess I'm commuting!
What's on the list for tomorrow? Phone calls, emails, fundraising and troubleshooting.
Please join our Hippie Chick Diaries fan page on Facebook!