Wren on February 9th, 2012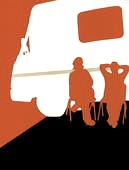 Some readers might be noting that Hippie Chick Diaries has changed dramatically. "Wren Tuatha's Complicated Adventures in Simple Living" used to chronicle life in Intentional Community. Then it became the Occupy Diaries. Now brace yourself to follow me into a new form of simple living, boondocking!—WT
I am a rooted person. I come from farmers who owned the same lands from the Land Grant times to the present day. I thought that, if I wanted to, I could stay in my little homestead at Heathcote Community for the rest of my life. So I rooted and dug deep.
My partner C.T. is a gypsy. If I'm the farmer meme, he's the nomad. He's happy in a suburban lifestyle or couchsurfing. He follows the buffalo, or messages on the wind.
So, facing homelessness, we made a creative compromise: we'll be nomads in a rolling house.
My home for the past sixteen plus years has been Heathcote, my community, my family, my agrarian tribe. We live on 110 wooded acres north of Baltimore, Maryland. For my first five years, I lived in a little springhouse on the stream, with my dog upstairs with me and ducks and a goat down below and grazing around.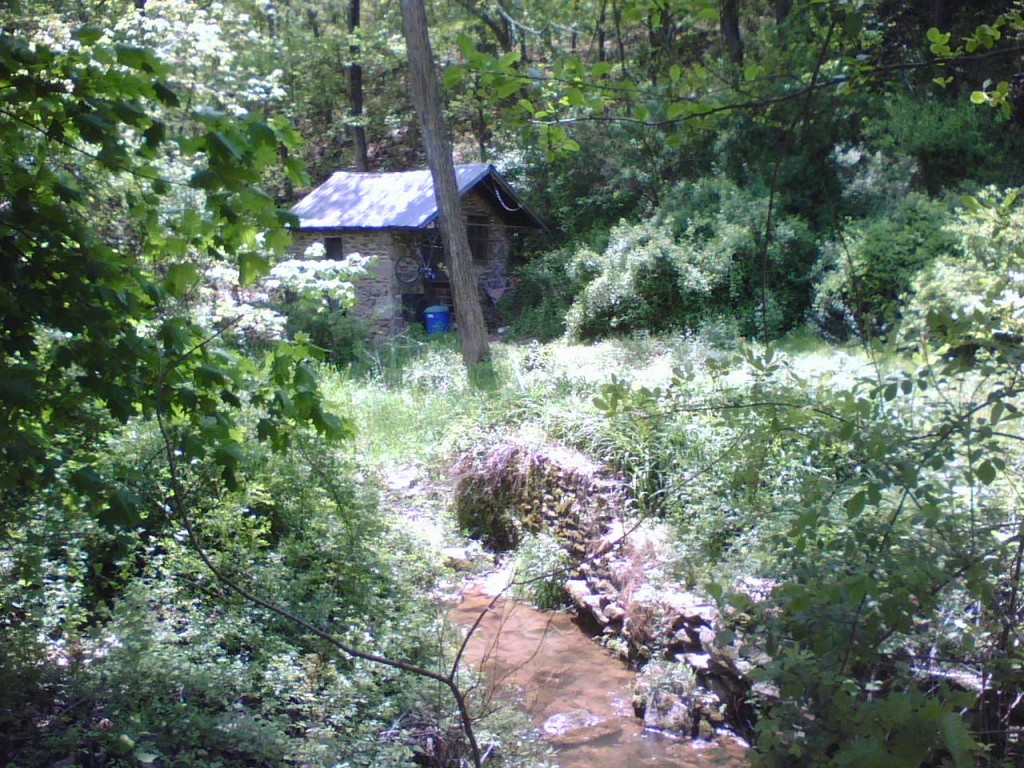 When my dog got too old to navigate that tiny house, I moved my little family up to a larger cabin on the top of the hill. Here, at Hina Hanta, we evolved as a family for ten years. I no longer keep ducks, and dogs and goats and come and gone. So have human partners.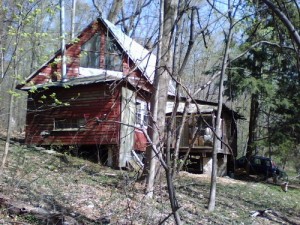 Now, as Heathcote Community moves into a new phase that doesn't include occupying these old shacks, my partner C.T., our dog Tuatha and I are leaving this forever home on Tuesday.
We were touring Occupy sites when we got the news that we would lose our home. Ironically, as Occupy groups shifted from their tent city encampments to indoor meetings and direct actions protesting foreclosure evictions, C.T. and I were deciding not to fight the eviction we faced.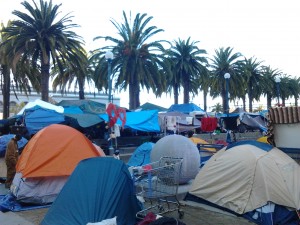 Traveling by car, plane and train to various Occupys, we met many homeless people. Some had been homeless for years, often battling alcoholism and other issues. Others were newly homeless, with stories of Afghanistan or losing children.
Many were falling directly out of the middle class. And many middle class protesters were experiencing widespread joblessness as a new normal. Others were twisting their schedules to fit in activism with two and three menial jobs.
Knowing that I didn't want to be truly homeless with a dog and a partner (shelters allow neither, apparently), I struggled to pool my remaining resources with whatever creativity I had to make a motorhome happen. Even in homelessness, privilege operates, and I have doors open to me.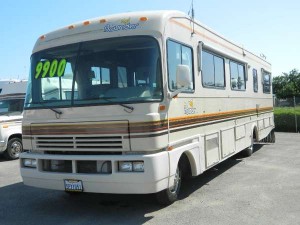 C.T. and I were already looking for an RV or tour bus to continue our Direct Democracy Tour of Occupy sites. We had planned to travel constantly with several other trainers, providing workshops and consultation. Our original idea had us raising $20,000 for a used bus or RV. As we learned the limits of our timeframe and our fundraising savvy, we settled on a thirty-four foot 1990 Fleetwood Bounder for $7000. The seller was excited to support our project and gave us a month to find the funds.
It breaks my heart to tell you how close we came to raising that money, gluing donations and loans and wishful thinking together. By my research, this was the least we could spend in the dependable range, imagining a rig that could get us from Maryland to California and back several times.
Then, facing living in someone's basement, I lowered my definition of "dependable" to mean anything with four walls and a roof that could be mine, drivability optional.
Looking in the $2000-$4000 range, every RV on craigslist needed some repairs, and usually had been parked for years, never good news. We started looking at smaller RV's, but they didn't include the queen sized bed we wanted. Privilege again, because the dog must continue to be in the bed with us.!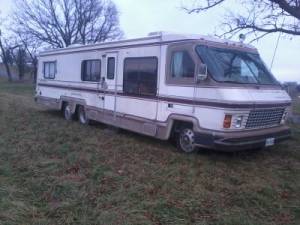 This lead us to a 1986 Sportscoach Cross Country, thirty-six feet! The listing sounded like the universe was finally rescuing us—complete repair records—evidence of the thorough/anal seller we love to buy from. New tires, breaks and break lines. A few cosmetic repairs needed.
C.T. and I drove nearly four hours away and found ourselves four-wheeling our Honda CRV into a field, marveling at how very long this machine was. We were greeted by Chuck, a chain-smoking, swearing electrician and his Amish wife, Sally. "I have stuff stored in here," he warned us. We stepped over the hole in the stairwell, where he had dismantled things.
We pulled ourselves up into what I can only describe as the lair where Chuck apparently goes to hide when he's transformed by the full moon into a chain-smoking ware-gerbil.
Most horizontal surfaces nested piles of cigarette butts, no ashtrays noted. Machine parts nested in every plush chair, bench and couch. Boxes covered the queen sized bed. And little rips of paper swirled and netted in the carpet. Everywhere.
The toilet was oozing. It's possible Chuck and Sally don't realize the blackwater holding tank is not self-emptying or a portal to another dimension. To be fair, we do live in an out-of-sight, out-of-mind culture.
Okay, so it turns out that Chuck bought this motorhome from the anal type of seller we like. He'd had it for eight months, living in it while he finished their mobile home. There was a sad story about losing custody of their seven month old child because they were living in an RV.
That's a story with more to it that what's told.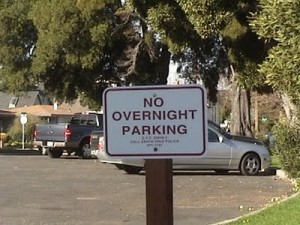 But it brings up to me the fact that there are so many millions—yes, millions—of Americans living full time in RV's that municipalities are starting to take sides. Some are passing ordinances against parking overnight. In those towns, RVers often get harassed for just parking while they eat in a restaurant—at lunchtime. Other communities, and some of the big box stores, do the math differently. They see these travelers as bringing money into the local economy.
There are now websites listing parking lots where RV's can park overnight in any given town. These are grocery stores, Home Depots, Lowes, Targets, and yes, WalMart stores.
Looking into RV living, the first lesson was that campgrounds are expensive, $35-$55 per night, and more. Although some have weekly, monthly and yearly rates, if you're on the go, you can't do that every night. So my second lesson involved a new vocabulary word: Boondocking.
Of course, as a native of the woods, the geographic concept of boondocks was not new. But I've learned that RVers have embraced this idea to refer to dry camping, with no water, electric or sewage hookups. Depending on your level of purity, the term refers to all dry camping, in parking lots to wild areas, or the term must be reserved to the most remote, untamed zones.
Apparently, there are millions of Americans traveling the parking lots, city parks, byways and mountain passes of the land. This may seem eco-unfriendly at first, but my third lesson has been that, for philosophical reasons or pragmatism, boondockers live on a tiny fraction of resources that other Americans do. They limit water use, and then reuse and re-reuse water (flushing toilets with dishwater) and they collect rainwater to use.
Boondockers quickly learn that it's best to invest the $3000 in a few solar panels, then they're not rotating their batteries and generator, and not needing to refuel that generator. They can stay independent longer. This becomes a goal that brings boondockers, whatever their politics, to greener and greener simple living.
There's a real frontier attitude, very independent and individualist. Some boondockers might object to my characterization, pointing out all the website support groups and clubs. But, as C.T. points out in our workshops, there's the value of cooperation and then there's the strategy of cooperation.
C.T. tells the classic story of the college football team winning the championship. The reporters ask the coach, "What's the secret of your team's success?" He of course answers, teamwork, or cooperation. Very odd, since football is the epitome of violence and competition. The players aren't concerned about the other team as they plant their faces in the mud. C.T. makes the distinction that they're using the strategy of cooperation to achieve the goal of winning, of competition.
In that vein, I'm saying boondockers of all stripes are dropping out of mainstream society and forming a new nomadic social class. As people with my limited financial resources and nearly unlimited creativity realize that we're not going to find real jobs, we fall out and land here. And, like other strata of society, individualism and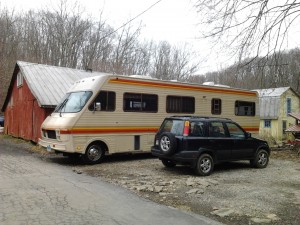 DIY rule. "I gotta get out of Babylon," one hippie woman posted on a boondocker site.
Indeed. We are the end of empire. Tear it down. And when there's no more gas, we'll each have four walls and a roof and a sense of mine and home.
Post Script: After letting the '90 Bounder go (just too expensive) and passing on Chuck and Sally's rv (just too sad), C.T. and I found a cherry ride in a 31 foot 1986 Bounder, found in Middle River, Maryland. Now we're boondocking at Heathcote while we work out some bugs in this rv's systems. We've named her Serenity, after the Firefly series.
The adventures of a new Serenity crew begin!
—WT
Please join our Hippie Chick Diaries fan page on Facebook!