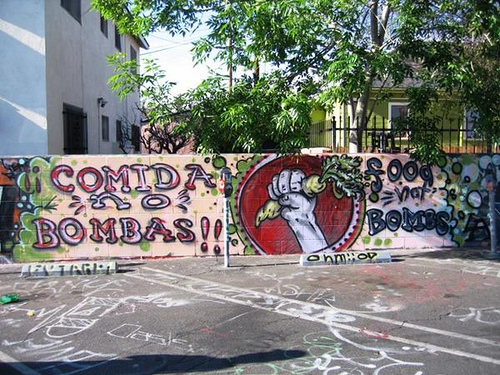 Although many of us in the Intentional Communities movement know C.T. Butler as a consensus trainer/ facilitator/mediator and the author of On Conflict and Consensus and Consensus for Cities, he is also the fountainhead and co-founder of the original Food Not Bombs collective. He's co-author of Food Not Bombs: How to Feed the Hungry and Build Community, with FNB co-founder Keith McHenry.
In his role as consensus trainer, he met Douglas Rori in Nairobi, Kenya. Both were attending the IndyMedia Convergence leading up to the World Social Forum there four years ago. They've stayed in touch and C.T. has closely supported Doug's work in establishing a FNB chapter in Kenya. So when Doug posted his new film on facebook recently, I was electrified by the parallels of the use of graffiti in Africa with the stories C.T. has told me about graffiti as a central artistic tool in FNB and his other activism in the 1980's. Of course, the artistic bar has been shot into the stratosphere, as depicted in the thought provoking documentary Exit Through the Gift Shop. And the art in Doug's film is of that caliber.
I want to share Doug's link because, wherever activists are working, I love the power of delivering our messages on our own terms. This seems more and more important as we find ourselves living on Earth, Inc.
http://vimeo.com/20684850
Please join our Hippie Chick Diaries fan page on Facebook!