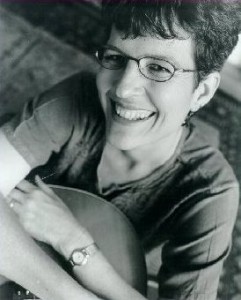 Jamie Anderson, the singer-songwriter who is doing a benefit house concert at Heathcote Community on May 22, has a fun video biography on youtube. Please take some time to get to know this artist if you're not already a fan. Her work runs a wide continuum from comedic to sensual, employing many musical styles along the journey.
In the biography, she talks about how having a musician for a dad influenced her life's path. I can totally relate. My dad was an insurance executive and I to this day have the compulsion to get paid for telling people that things could go very badly, we should all prepare for calamity.
My dad, Bill Dolen, was also a professional musician who played saxophone in the big band days. I felt deeply connected to him when I learned sax as a kid. Of course, I didn't pick sax out of all the limitless instrument possibilities; I wanted to play flute. Nice, lightweight, girly. But my family had a saxophone in the house, so rather than renting a band instrument for me, we went with what we had. Of course, the frugality of that was slightly offset when my parents had to buy a luggage carrier with wheels because this petite eight year-old couldn't lug her alto sax onto the city bus to go to school.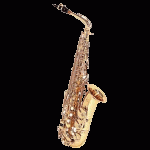 The weight of that sax in comparison to its new player was the ultimate killer of my musical career. Even with the wheels, I so hated the burden of dragging Dad's alto sax to and from my downtown alternative school that I took to leaving it in the band closet with all the other instruments. I like to think it made friends, ala Toy Story or Brave Little Toaster. So that when someone broke into that band closet and stole the school's wind instruments, my brass Bundy bravely went along, out of solidarity.
I felt crushed. I had lost my dad's saxophone. This is when I learned that the one I'd been playing in the school band was not one he'd used in the big bands, but one that Mom had bought him as a gift. Uggh. Worse.
My parents got me a flute. I took private lessons. But that flute was not brave. It wasn't Dad's. I was never going to be the same pre-sax kid again. Hmm. Did Dad's butch saxophone make me queer? Hmm…
What's your musical biography? Post in comments here, or on our HCD facebook fan page!
See you all on Sunday, May 22 at 7pm at Heathcote Community for Jamie Anderson! RSVP at 410-458-2310. The event will include a fundraising dinner beforehand and a silent auction, details to come! And check out Jamie's video biography below! I will be posting links to several of her songs in the weeks leading up to the concert.   —WT
Please join our Hippie Chick Diaries fan page on Facebook!