Wren on January 14th, 2011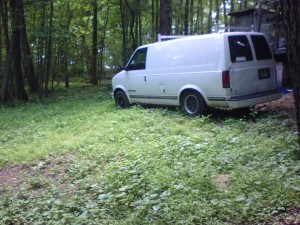 The time has come to sell the Heathcote Earthings business. While we prepare the inventory, tents, tables, covers and displays for listing, we're selling our ever faithful Zola, the Earthings van separately.
PLEASE SPREAD THE WORD!
Here's our craigslist text, with a link to the ad at the bottom:
RARE FIND! An All-Wheel Drive Cargo Van with Low Miles!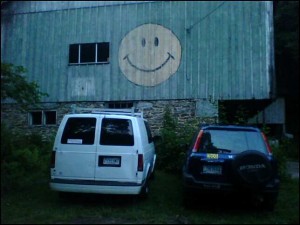 95 Chevy Astro Cargo Van, good condition. AWD, roof rack, some shelving, well maintained. LOW MILES: 97, 326.
Brand new tires have less than 100 mi. Includes new full-sized spare. Has a few minor rusting areas and peeling paint, appropriate for a '95.
We have loved this workhorse van, which we used (lightly) to transport tents, tables & inventory to monthly festivals. Getting out of the business for health reasons. "Zola" the van must move on to her next occupation.
Selling for blue book value, $2970. More recent photos coming soon.
Located in North Baltimore County area, between Maryland Line & Freeland. 20 mins from Hunt Valley MD and York PA.
write via craigslist or call, 410-458-2310. Call between 9 am and 9 pm.
http://baltimore.craigslist.org/cto/2160079227.html
***UPDATE***We've had a few interested parties, but the van is still available!
Please join our Hippie Chick Diaries fan page on Facebook!