What an amazing year Heathcote Community's Open Classroom had, thanks to our curious, energetic learners and my apprentice, Gloria (above, left) and Heathcote intern Kwame (above, right), both of whom practiced putting down their expectations of the kids' academic acheivment and finding their curiosities about our students' emotional, social and environmental lives.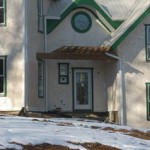 Gloria, a Heathcote Community member and resident of our strawbale house Polaris, right, is a science and math teacher who came bearing microscopes, minerals, birds' nests and books, books, books! Now under her leadership we're looking at expanding Open Classroom to five days a week, with many more students and interns, and an Arts and Sciences focus. Go NatureGlo!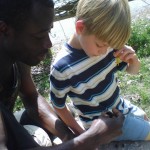 Kwame, a gardening and community life intern at Heathcote, is from Ghana. He spent many of his winter hours with us while there was less  gardening to do. And of course, the kids took to him and climbed him like a tree, as they do all our twenty-something interns. He shared his family photo album and the kids mentored him in how to play in the snow during Snowmaggedon. The sight of Kwame gleefully diving into a snow bank as if it were a swimming pool will stay with me for a while!
The learners lead their facilitators into explorations of mazes, Monopoly, origami, paper airplanes, sharks, dolphins, horses, wolves, chipmunks, dragons, pandas, beavers, wombats, Singing in the Rain, STOMP, frogs, tadpoles, snakes, cooking, the food pyramid, bikes with no training wheels, ladyslipper, swinging, Frederick the Mouse and torn paper art, collage, playing store, card games, book making, chess, cheetahs, Cheetah Girl, Shark Boy, Shark Girl, Lava Girl, Lava Boy, Spiderman, Peter Parker, gymnastics, circus, juggling, unicycling, tai quan do, and so much more that is, well, life!
Open Classroom will provide children's activities and information about the program and internship opportunities at Spoutwood Farm's Mother Earth Harvest Fair, Sunday, October 3, 2010. Join us!