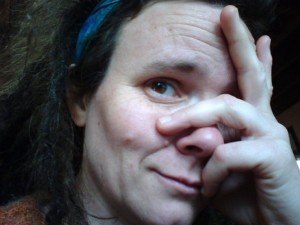 Okay, I'll admit that after six days of baking my brain in the sun and heat at Spoutwood Farm, I'm not so swift anymore. My head aches, I close my eyes a lot and make zombie noises. You could embed a promise that you can have my car and a goat into a conversation about the existence of aliens and I'm not likely to catch it. You could dress Carole King in fairy wings and say she wants to buy my most expensive necklace and I would just moan, "We're closed…" Even so, I'm pretty sure that I left the remains of tent #3 on that hill and now it's gone. Who steals trash? I withdraw that question, I know dumpster divers. Come to think of it, we sell a cloth shopping bag with the "dumpster diving team" logo on it. Still…
Retracing my steps, I arrived at Spoutwood Farm in Glen Rock Pennsylvania on Wednesday, giving me two set up days prior to the Fairie Festival, usually Heathcote Earthings' biggest show of the year. Although the day Wednesday has no etymology associating it with wind, I'm going to pretend that it does because, wow. It was windy. I had three EZ Up canopies to set up, two for Heathcote Earthings' inventory and one as a Heathcote Community information stand. My booth site was at the top of the hill and the gusts scraping across it were impressive.
I got help opening the tents from four twenty-something volunteer fairies. Number three gave us lots of trouble. I'd recently replaced some of the cross braces and might have over tightened some of the bolts. By the time we yanked and coaxed and threatened it open, the volunteer fairies flitted away to some other mission, leaving me to stake all three tents myself.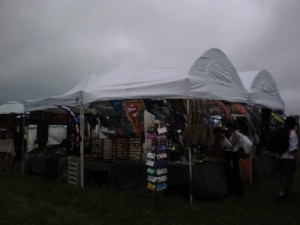 I was hammering down tent one when a gust scooped up tent three, bowled it over my van, and down the hill, leaving it upside down in the middle of the field. About three-fourths of the cross braces and upper supports were bent. It was totaled. Another vendor helped me walk it into place and I finished staking. I even staked number three into place and duct taped it to number two for support. It was in position to cover my tables but I would not be able to collapse it again for removal.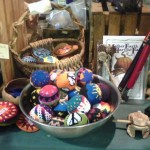 So our temporary boutique took shape.  Tables were positioned and necklace branches and handmade batik flag sets were hung.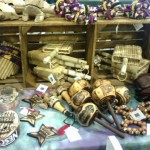 Several new collections of earrings shined on our custom made displays. Scarves, purses, buttons, bumper stickers, hand etched gourds, clay cats, elephants and bunnies, onyx fruit, candleholders, turtles, frogs and cats, handmade instruments, including bamboo xylophones and flutes, ocarinas, grass and juju bean rattles, thumb pianos, wrist bells, all paraded out for showtime.
There was a chance of rain for Sunday. So in my mind, I made contingency plans for getting inventory away from the curled and mangled corners of tent three.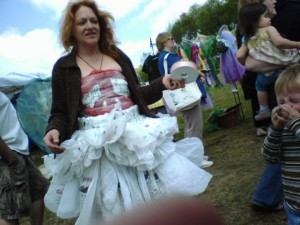 The rain blessedly held off until the festival was over and the very last scrap was in the van! Instead, our bodies faced the challenge of heat. The crew, C.T. Butler, Regina Tassone and Kwame Bidi, helped me drink gallons of water, yet no one needed any bathroom breaks. I started to feel heat exhaustion by the end of the first day. By the last day, I was dragging and a bit foggy. Thanks to my crew for picking up my slack!!!
So Sunday evening, just before dark and the first raindrops, everything was packed away except tent three. I left it there over night, staked down, since it needed to be dismantled to fit into a vehicle.
The next morning, I arrived solo. The field was occupied by slow moving, dazed vendors, packing up the last of their wares. And several tents remained to be taken down.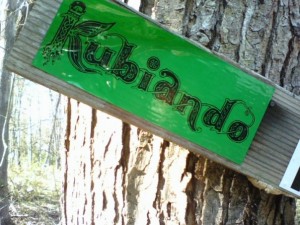 I  was armed with the wrench they give you with every EZ Up you buy. It's a happy little wrench. You dance around your tent, "La de da. This is the only tool I need to work on my wonderfully engineered instant shelter. La de de de da…"
But your little opera needs a dramatic shift–"Ooh! I've been deceived!!! An allen  wrench and socket wrench are also needed…or dynamite…Curses, EZ Up!"
So I went off in search of more tools. In the interest of full disclosure, I also obtained a fast food sandwich at this time.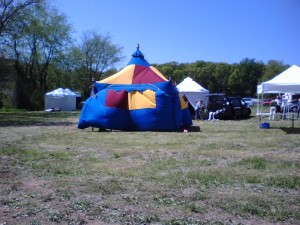 When I returned, the field looked much the same, a scattering of vendors, moving slowly among the remaining booths, business as usual. But when I pulled up to my site, it was empty, in a stark, satisfied way. No tent number three!
I ran up and down the field, looking for  some corner it might have blown to, but it was nowhere, as if it had never existed. I stared at the sky, as if I might sight some UFO that curiously requires mangled steel and poly canvas as a fuel source. The sky just stared back at me, as if saying, "I didn't see anything."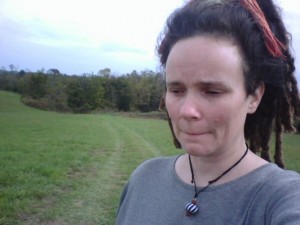 I hiked over to other vendors in other corners of the field. People remembered seeing my tent but didn't see it leave. I sought out Rob and Lucy Wood, Spoutwood's owners. We polled all the clean up fairies. Everyone had a theory, no one had any facts to report.
Well, what can I say? Weather is my white whale. Heat, floods, Snowmaggedon, now wind.
The aliens got away clean this time. What the fuck? Who steals trash? I'm stuck there. I lack closure. Some part of my soul still haunts that field, the part that rolls around like a dying plastic spider…
—WT
Please join our Hippie Chick Diaries fan page on Facebook!
Upcoming Post: The tent theft and the "culture of stuff"–My life didn't change, although the business took a $500 hit. But the twinge of violation leaves one with the pause, what else could leave while I'm not looking? An heirloom? A child?
Also, the issue comes back to intentional community, where we ask, what kind of world do we want to live in? We like to envision a world where, maybe, just maybe, we don't have to lock our doors. In community, if something disappears, there are just a few people to question, they haven't fled the scene, and if you find the new owner, you just discuss it as a misunderstanding.
Stay tuned, and feel free to comment here and on the HCD facebook fan page! –WT