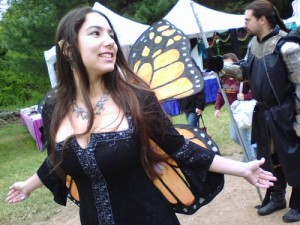 Smile and frown. I was Facebook messaged to put this grassroots "press release" in my status bar, but it has more characters than my status bar can swallow! So I'll stick it in here, with some of my favorite pictures from Fairie Festivals past. I'll be there, on the hill called Frodo's Eye (there's a strawbale observatory a few yards from my stand). Our booth will be mainly Heathcote Earthings, selling the jewelry I make from natural and recycled materials, and fair trade crafts from around the world.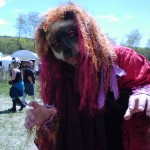 We'll also have information about Hippie Chick Diaries and Heathcote Community. So strap on your wings and see us there! —WT
(FOR IMMEDIATE RELEASE)
Spoutwood Farm Center, an organization dedicated to bringing people and nature together, presents…
The 19th Annual May Day Fairie Festival
This year's May Day Fairie Festival will be held at Spoutwood Farm on April 30th from 12:00 PM to 7:00 PM, and May 1st and 2nd from 10:00 AM to 6:00 PM each day.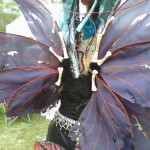 The weather reports look DRY and SUNSHINE-filled!! Yay!
Admission is $15 for people over 12, $5 for people 12 and under, and free for those 2 and under. A three-day pass is
available for a reduced price of $30…the three day pass can also be used to get through the gates quicker, even if you are only using it for two of the days.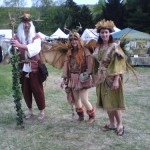 Those who decide to volunteer when they arrive at the festival can request a 2-hour job assignment; upon completion, the admission fee will be refunded.
Spoutwood Farm is just outside of Glen Rock, PA, 45 minutes north of Baltimore, 30 minutes south of York, PA. Parking will be available near the farm.
The May Day Fairie Festival is the brainchild of Rob and Lucy Wood, owners of Spoutwood Farm, an organic farm in the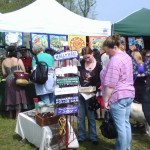 Community Supported Agriculture movement. It began as a party for about 100 friends, and was has been celebrated by 16,000 "friends" of the little people from the local area, all across the US and across the Atlantic.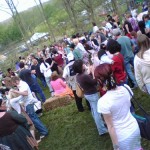 Previously a one-day festival, a second and third day were added as a response to the festival's rising popularity.
Once again, the festival will celebrate the beginning of spring and all of the nature spirits return to the warm world with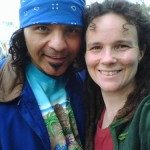 70 arts and crafts vendors (mostly featuring handmade art inspired by the little people), performances by musicians and dancers, storytellers, participatory maypole dancing, fairie craft activities such as wand and garland making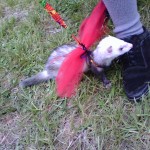 (involves a small fee), food vendors, fairie and other nature spirit environments to explore, a Nature Place offering a place for environmental, health, animal interest and other groups to share their vision, fairie and gnome habitat tours, fairie tea parties,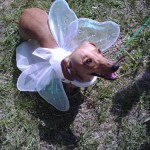 guest appearances by the Green Man, the Mossmen, Sweet Pea and others.
Families attending this event have discovered that this event is not just for kids!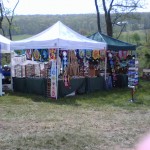 The fairie and May Day themes go back to ancient times in almost all cultures, especially to the Celts of the British Isles who had a festival on the first of May called Beltane.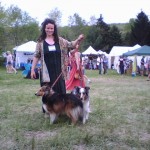 It was a time of great rejoicing at the return of the earth's abundance in spring and the impending bounty of summer. The Celts celebrated the spirits of nature by honoring not only the plants that they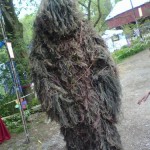 could see and smell but also the unseen beings of the fairie realm.
© 2010 Spoutwood Farm Center
Spoutwood Farm Center Inc. is a 501(c)(3) Non-Profit Educational Farm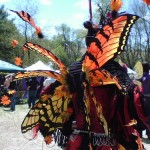 4255 Pierceville Rd. Glen Rock, PA 17327 717-235-6610
http://www.spoutwood.com/fairie-festival
Visit the Facebook Group page for the 2010 May Day Fairie Festival
http://www.facebook.com/event.php?eid=240582798598&ref=ts
Please join our Hippie Chick Diaries fan page on Facebook!