Wren on February 27th, 2010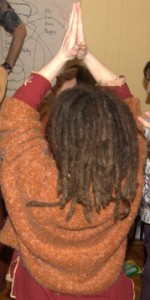 I've practiced my form of simple living at Heathcote Community for nearly fifteen years. Our population has hovered around a dozen adults, dipping down to eight and now climbing to sixteen adults and six kids, with several more interns on the way this year. I can tell a difference in the energy and intimacy between Heathcote at eight and Heathcote at sixteen. I wrote about our dinner cleanup becoming more hectic, and I now have more interactions with more people, thus more processing, and processing delayed more often, as we maintain busy lives. This has made me more curious than ever about larger Intentional Communities, such as Ganas in New York, which has around eighty members, or even Auroville, in India, with over two-thousand members.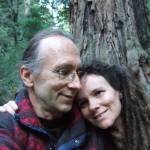 In my history with community life, I was never much of a traveler until the last couple of years. I would sometimes get down to Twin Oaks in Louisa, Virginia. And when I was searching for Community I visited Spiral Wimmin (Kentucky) and also Wygelia and Woodburn Hill Farm, both in Maryland. Typically, if I'm going to visit another Intentional Community, it's on business, such as my trip to The Farm in Tennesee for a Gaia University organizing meeting or to Seven Sisters in Pennsylvania for the School of Living quarterly meeting. But I have never even visited most of the other Communities of the School of Living, Heathcote's land trust organization. Since the spring meeting is held in my Community, I see my friends then. Heathcote always has wealth in our visitors from all these places and more.
I have friends all over the world and I'm starting to visit them!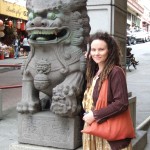 I traveled with poly partner Harold to Harbin Hot Springs in California, for the World Polyamory Conference a couple of years ago. Although this was an interest community and not a landed community, I count it as part of my evolution into an Intentional Community networker and traveler. The hot springs were magical. And we did the tourist thing in San Francisco's Chinatown and the redwood forests!
Near the end of that California trip, my Goodwill suitcase started to disintegrate. It took quite a bit of nudging on Harold's part to convince me to invest in a new, durable, quality piece of luggage. The moment I did, the universe must have identified me as a traveler because that suitcase and I have been going ever since! It's taken an adjustment in my self image to make the shift to keeping a travel kit in the bag, rather than completely unpacking after a trip. New paradigm!!!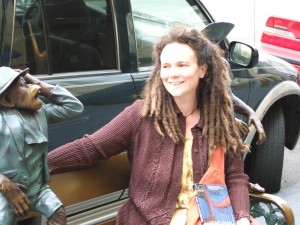 Last year my then partner, Iuval, I visited Woodfolk House, The Possibility Alliance, Red Earth Farms and Dancing Rabbit in a whirlwind tour to find a Community or land we could agree on. Too bad we didn't get to add Sandhill and East Wind to our Missouri tour. Some day I'll make it back, maybe in May if I can attend the new Villages in the Sky festival, a sort of temporary community akin to the Rainbow Gathering and Burning Man.
Some smaller, more off-the-map Intentional Communities I've visited include Baltimore's Red Clover Collective, The Hermitage in Pennsylvania, and Heilbron Springs in Florida, where I interviewed the ever interesting Tipi Frank.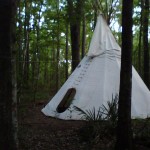 I'll visit another School of Living Community, Julian Woods, in May. I'll be there as part of a two-year course in meeting facilitation with Sandhill's Laird Schaub and his partner, Ma'ikwe Ludwig, a member of Dancing Rabbit Ecovillage. (We're looking for other communities in the mid atlantic region to host this course for a weekend. The students will provide free facilitation for your group. You can leave a comment on this post or contact Heathcote at education@heathcote.org.)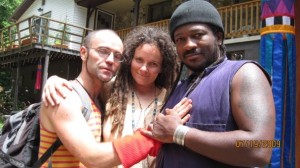 I attended a temporary Intentional Community this summer, Network for a New Culture's Summer Camp in West Virginia. That Summer Camp holds reunions. I've attended two, at Reed Street in Philadelphia and Chrysalis in Arlington, Virginia, both urban Intentional Communities.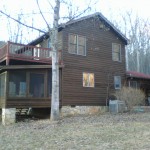 And I visited another kind of temporary Intentional Community recently. Sweeties Jas and Erika scooped me off for a weekend at Gibson Hollow, a cooperatively owned land in Virginia, where about nineteen urban dwelling members share a getaway for weekends and holidays. It backs up to Shenandoah National Park.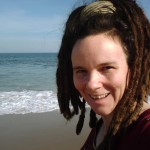 Now as Harold and I are furthering our skills as ZEGG-Forum facilitators, we're planning to deepen ties in his Virginia Beach area tantra community by holding monthly ZEGG-Forums. ZEGG is an Intentional Community in Germany which has developed their forum as a tool for IC's and other groups to get to the heart of what blocks their relationships and common work. We'll travel to Ganas again in June and October to complete our certification as facilitators. In the meantime, I'll start traveling to Virginia Beach once a month to co-lead a forum group with Harold. I'm liking the sight of me on the beach once a month!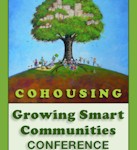 I recently visited nearby Liberty Village Cohousing, one of fourteen member groups of Mid Atlantic Cohousing, serving Pennsylvania, Maryland, DC and Virginia. I was at Liberty Village to visit C.T. Butler and attend his consensus workshop. He and sociocracy writer John Buck will be comparing C.T.'s "formal consensus" model with sociocracy in a workshop at Mid Atlantic Cohousing's Growing Smart Communities Conference, March 20, 2010. Heathcote's own Karen Stupski and Patty Ceglia will also be there, teaching Permaculture!
I almost squeezed another trip in there—C.T. invited me for a Long Island getaway. I'd never been there, but while I was waffling (the Ganas trip was coming up and I hate spending so much time away from hearth and hound…), we were hit with the double blizzard!
I may find myself and my suitcase in Las Vegas next month! Any poly gals out there want to marry me on the fly? A sister student in the ZEGG-Forum course is inviting me to facilitate or "weave" at her wedding there. I love her concept of weaving the two families together in her ceremony. And although the little math I know is enough that I won't be gambling in any casinos, I would love to see the Las Vegas Strip and all the lights. Yes, I would probably post about the unsustainability of pumping all that energy into the middle of the desert, but you would nod and forgive me; I know it's already been said, but not by this hippie chick on the spot!
I see that ic.org lists ten Intentional Communities in Nevada, all in the forming stages. They seem to have a range of diets, levels of simplicity, etc., and various unifying values. It would be shiny to visit one while I'm there!
I can tell I'll have to expand on these many destinations in posts to come! I have sights, sounds, smells, touches and tastes from every Community I've visited. And the ZEGG-Forum and meeting facilitation courses will keep me on and off the road for another couple of years.
So I'm learning the tricks of traveling. I need to become a lighter packer, certainly. I'm so lucky to have Heathcoters John and Gloria in my dog co-op; they keep Tuatha well hugged and warm when I go away. My house is actually a kind of doggie day care. I have a huge area of woods fenced in behind my house so Heathcote dogs Tuatha, Rochelle and Chance can bolt around, cussing at squirrels all they want, then plow through the doggie door, tracking in all the snow, mud, leaf bits or whatever will stick to them.
Tuatha is not excited about my itinerary. Now he naps in my suitcase, on the off chance that I leave on a trip while he's snoozing!