Wren on February 21st, 2010

Many faithful pet pooches honor the tradition of the leaf pile fight. Who knows why they feel compelled to attack flying handfuls of dried leaves, even as the handfuls fall apart in the air?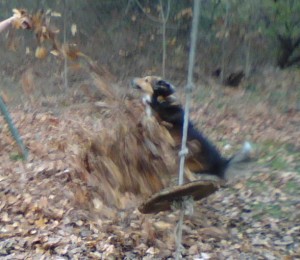 At least in the case of my dog, Tuatha, I believe that he's acting on my behalf. He must know, because he's smart in that creepy way, that fall leaf piles are a sign that winter is not far off. And since he knows I hate winter, again, creepy smart, he takes up arms—or teeth—to prevent summer from giving up the stage.
I have decided this. Don't correct me; My life is small and I have few entertainments. –WT