Wren on February 20th, 2010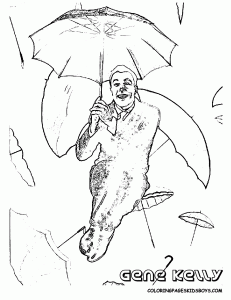 Yippee! I wish I had bet money. I imagine some people thought I would have trouble finding Singing in the Rain coloring pages. How could you doubt my Googling prowess after I came up with coloring pages for our STOMP! unit?
So the fizz is fading on our origami unit and it's time for the members of Open Classroom to consense on a new unit. Decisions are made by consensus, just as in Heathcote's adult community. So the kids are brainstorming ideas on lists and then ranking them.
Our origami unit was my idea. The kids had a presentation on paper airplanes in their science club. Suddenly they were making and flying paper airplanes at a rate of about three per second, all over the community. The problem was, they were picking them up at a rate of about one per year. Any piece of paper was a risk of being folded and flung–receipts, committee reports, shopping lists and virgin copier paper–That was the most coveted by paper airplane manufacturers and least tolerated by communal adults who preach "reduce, reuse, recycle."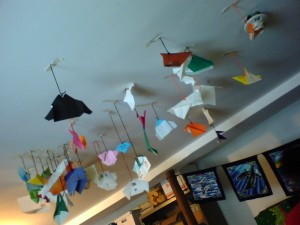 Now normally I would be happy to follow the kids where there energy goes. I'm sure they were learning all kinds of useful principles of aerodynamics and gaining fine motor skills. But when they cracked into the very pricey virgin construction paper it was time for some structure, if not redirection.
How about origami? It's peaceful–you make bird sounds instead of those spitting machine gun noises. And cranes fly–You hold one in your hand and fly it around; You don't throw it. And because it took you forty-five minutes and two interns to figure out how to make it, you want to keep track of it and admire it for a long time!
Origami, Japanese for "stop tunneling through the expensive paper as if you were trying to get to the Earth's core and neutralize it before we all explode!"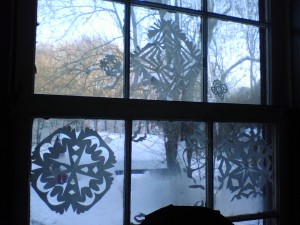 We also repeated our annual ritual of filling the mill windows with snowflake cutouts. I love this shot of paper snowflakes looking out on all the buildings and cars nearly hidden in snow.
So what unit will we choose? Our intern Gloria brought lots of resources from her job, teaching science and math. We read a story about Harry Houdini and some energy welled up around magic. The kids constantly invent their own board and card games. Some game theory might be interesting. Maybe Spiderman–Our youngest member refuses to answer to any name other than Peter Parker these days.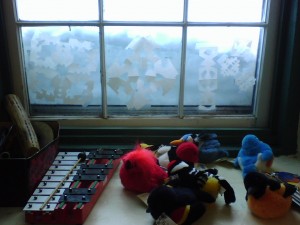 In any case, I'll be looking for everyone's "buy in." My role is more that of facilitator than teacher. So what are the common values that inform the decision? Our shared love of learning and curiosity, our preference for experiential learning, egalitarianism. So where is the energy flowing? I like C.T. Butler's point that in consensus, one "consents" to a decision. It's a decision one allows to go forward, it doesn't have to be everyone's first choice. This is people's first misunderstanding of consensus, I think. Then they mistakenly believe that every member of a group has to be involved equally in every decision. Every member has equal weight in every decision, but the group can empower committees and managers to make certain decisions within their mandate, given by the group.
Open Classroom experiments with this kind of leadership in a horizontal (non-hierarchical) structure by taking turns being the "chooser" for the day. No, not The Decider, shudder to think…The group decides what decisions the chooser may make for the group. Then each member of the group is at choice to follow the chooser's suggestions or not.
Currently, the group has mandated the chooser to
select the talking stick for our opening circle
select our lunch, which must follow the food pyramid
make up silly challenges for us when it's time to return to our classroom for quiet time (so we don't run and act crazy)
present a simple workshop during our late afternoon boring time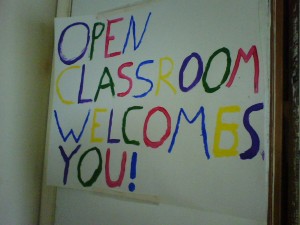 The chooser learns to consider her/his audience and act creatively but in the interest of the group.
I'm ready for a tropical unit of some kind–parrots of the world, equatorial predators, sewing summer clothes…
–WT