Wren on February 8th, 2010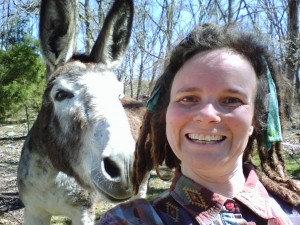 Yes, this is a donkey checking out my dreadlocks. Animals are often drawn to me, but not usually in that nosy-stranger-at-the-bank kind of way. This one seems to be thinking, "Is it hay? Is it a bouquet of dead willows and petrified water snakes? What happened to the days when visitors used to bring me sugar cubes?"
These pictures are from a later visit. If my smile seems strained or forced, it's because I know this donkey's history. He and and two female donkeys lived at the very top of the mountain where my then partner Iuval had his bio diesel converted school bus parked, in glorious, nearly pristine Murray Valley, Arkansas.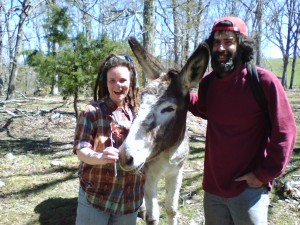 After weeks of declaring that I would never live in Arkansas because, well, they keep it in Arkansas, I arrived and fell in love with the Ozarks. Iuval's bus, Shadowslo, anchored a campsite on a shelf on the side of the mountain, six miles from the paved road. The owner had cultivated a large garden and orchard on the shelf for decades. It would have been the perfect site for the Intentional Community we wanted to start, but the owner wouldn't sell.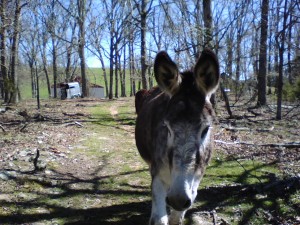 But back to the donkey with history. When Iuval and I were first together, he would have to go to heroic lengths to contact me. He had no cell phone or internet reception at the campsite. He could drive into Jasper, where he got reception if he stood in the middle of the town square and cocked his head just right, or he could ascend the peak.
On one of his first calls from the top, Iuval described that he was enjoying the company of three donkeys that were kept in a field there. "I bring them apples from the orchard to make friends with them. I'm giving an apple to one of the females now, and petting her."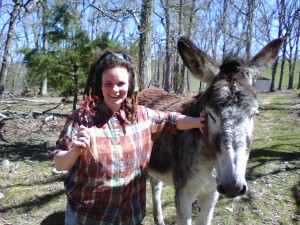 That's nice, dear.
"That's strange. The male donkey has come up to us. He seems curious. Maybe he wants an apple but I don't have any more. Whoa! Sweetie, this male donkey has the biggest hard-on I've ever seen! That's some schlong! Hmm. I feel inadequate…"
Now, I grew up around farm animals. I know a thing or two. "Iuval, get out of there now! He's jealous! Get away from his woman, I mean it!"
"What? No way. Why would he be jeal…"
What I heard next was
hoofbeats
Iuval running
air whooshing past the phone mic as his arms moved
Iuval screaming, "Omigod, omigod, omigod, omigod, omigod, omigod,  omigod, omigod, omigod, omigod, omigod, omigod, omigod, omigod, omigod,…"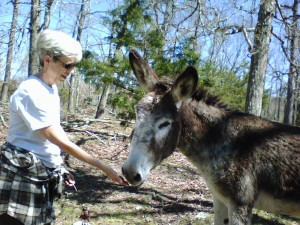 Now in the seconds these sounds were in my ear, I was thinking, who do I call? How do I tell them where he is when I've never been there? Why do men never let me know something and listen to me when I do?
"I'm okay. I'm up a tree."
"Is it an apple tree?"
"No."
"Okay, well, good luck with that. Call me next week."
Apparently these donkeys were polygamous, not polyamorous.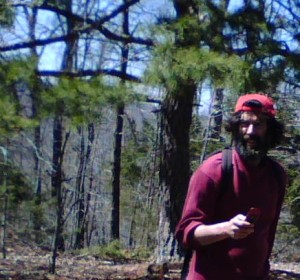 These shots are from a day Iuval and I hiked up to an overlook with our friends Nan and Dave. I had to laugh at all four of us–As soon as we got to the top of the mountain, in the donkey pasture, we all stopped conversing, whipped out our our cell phones and dialed the outside world!
Life isn't going to be the same, is it?
Please join our Hippie Chick Diaries fan page on Facebook!