Wren on February 4th, 2010
Yes, it's a stereotype: hippies living on the commune, dressed in homemade tie dye as they garden and strum guitars. But if stereotypes are rooted in some small reality, this one is alive and well at Heathcote Community.

Here at Heathcote, we have a ten-year member, Carol, who loves to practice and pass on this craft. She's usually up for a tie dyeing party, and she's even held workshops in it. Carol dyed Hippie Chick Diaries' spiral banner for us. And she mentored the Open Classroom kids in tie dyeing sheets for our Chinese New Year dragon, which we paraded up and down our road with much fanfare, making as much noise as possible from Heathcote Earthings' fair trade instruments!

Most of us have t-shirts, sundresses, skirts, sweatshirts, etc., tie dyed in community with Carol's help. I love seeing community mates showing them off!
So when Heathcoter Charles gave my partner and me two sets of queen sized organic cotton sheets, I knew what I wanted to do!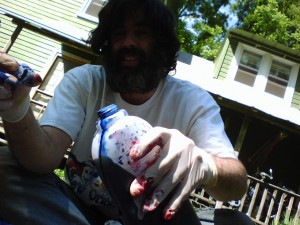 Iuval and I, and the two shelties, were ready to graduate from a double bed to a queen. Charles had a mattress to give away. But I loved my old bed, an heirloom. It wasn't anything fine, a double bed that had been bought for my two old great great aunts when there was a fire at the old farm in Kentucky. Iuval and I decided to adapt the old headboard and footboard to a new queen sized platform. It took us a couple of days to get it just right. The time we spent working together on it was magical, as we problem-solved and puzzled it out.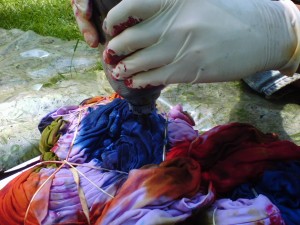 But I was worried about the sheets Charles so generously included with the mattress. They were thick and clearly expensive, too nice for my dirty, rustle-in-the-woods family. We would have them stained and grungy before you could say, "What dead thing have you been rolling in?"
So, off to Carol's  tie dye emporium! She and her partner Paul live on Heathcote's back parcel, in a pioneer log cabin with their two children and a very large cat named Smudge. This cat will let you pet him, but will eventually, without warning, attack your hand as if he were just injected with Tasmanian Devil DNA. He and my dog Tuatha have known each other their entire lives. Despite this history, Smudge still appears appalled and ready to defend his border whenever Tuatha visits. And Tuatha still acts as if Smudge should just get over it and start wrestling around the ground with him. "If you would simply let me sniff your butt, and if you would just smell this corner of the porch I've so thoughtfully marked for you, you would understand I've come in peace!" If dog people and cat people can coexist, why can't dogs and cats?
On the lawn of the cabin, Carol helped me spread out dropcloths and organize the colors of dye. I would dye the off-white sheets; Iuval would dye the set that already had a pale lavender color. I planned my pattern for a long time and selected colors that matched the decor of our loft. Iuval grabbed bottles as they suited him and started squeezing with the consideration of a three year-old. Everyone had fun and the results were enchanting.
After leaving the sheets and pillowcases tied over night, we rinsed them with a garden hose and laundered them. And when we made the bed and climbed inside, it was the little world we had built entirely together, not my homestead at Heathcote, not his veggie bus in Arkansas, but a queen sized new start.
These days I'm still at my homestead, down to one dog and no Iuval. He's moved on to Atlanta to be with his son. I think I'll send those lavender-and-every-other-color-he-could-grab sheets down to Atlanta. I'm keeping the ones that match my loft.
And maybe this spring, long after the Chinese New Year, I'll show up at Carol's cabin with the bag of old shirts and skirts I've been saving. Who else is ready for a burst of color?
–WT
Please join our Hippie Chick Diaries fan page on Facebook!