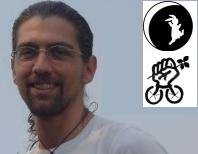 Let me tell you about my friend Nathan Brown. He hosted my partner Iuval and me on our recent visit to Dancing Rabbit Ecovillage in Rutledge, Missouri. His drive and focus as an environmental and intentional community activist make my hair giggle. When I grow up, I want to be just like him. This Wednesday, August 12, 2009, he'll be the guest on AwakeNow Radio from 4 to 5 pm and you can see if he makes your hair giggle, too!
At twenty-nine, Nathan is the kind of doer who makes me curious to see what he'll be doing at thirty-nine…and forty-nine and fifty-nine.
While I struggle to make the transition from vegetarian to vegan, Nathan shows amazing discipline in sticking to his raw food and localvore diet choices. While were there, he taught Iuval how he soaks his food rather than cooking it. And he carefully researched the sources of the foods arriving to his little co-op at Dancing Rabbit. His particular food co-op is striving to eat locally, or at least regionally, so treats I love like chocolate and quinoa may go off their menu.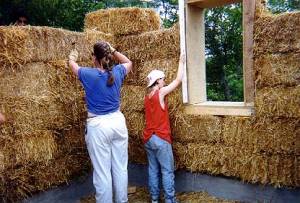 Nathan was a gracious and engaging host, showing us around Dancing Rabbit's many and varied building projects. A tour of DR will be part of the radio show as well. I love houses; They are worlds unto themselves and my imagination is always sparked on such tours. DR's homes include straw bale, earth berm, and earth bag dome, conventional post and beam, modified silos, school buses, etc. One friend there lives so simply his "home" is a hammock. House sites are grouped together on their land, creating a warm, inviting village feel. Yards seem to be completely taken up by gardens.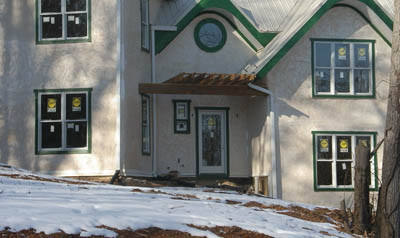 Dancing Rabbit is off the grid, getting electricity from solar panels and water from catchment. Creating a village from the ground up on empty land in a part of the country with less regulation, DR has grown to over forty people in a dozen years. My own community, Heathcote, is forty-three years old and hovers around a dozen adults most of the time. We face complicated issues navigating local housing regulations and we work with the buildings already on our land, such as our historic grain mill, farmhouse and pioneer log cabin. We modify outbuildings such as a chicken coop and corn crib. We try to improve the energy efficiency of our existing buildings. Polaris, our straw bale group house, (pictured here) is our only new construction. Additionally, our land doesn't afford us as much opportunity for solar and other alternative energies as DR's.
Nathan also demonstrates that, for an intentional community to succeed in its mission, its members must be dedicated to social, interpersonal technologies that facilitate consensus, conflict resolution, personal and interpersonal growth. He shared some of his techniques with us during our visit. And I appreciated doing more growth work with him at New Culture Summer Camp East last month.
I look forward to hearing Nathan share his community and his vision with a new audience. From the Facebook event page:
Nathan Brown will join AwakeNow! Radio and co-hosts Lotus Allen and Margie Scott for an engaging and informative conversation, plus he will take us on a fascinating journey to Dancing Rabbit Eco-Village in NE Missouri. Nathan will share his sustainable life way, vision, mission and his work/play, which serves and promotes The Great Turning from our current Industrial-Corporate Age toward the formation of a Life-Sustaining Age.

Nathan Brown is a eco social entrepreneur, healer, & social change activist living at Dancing Rabbit Eco-Village. Originally from Texas, Nathan has lived in several intentional communities and is dedicating his life to living and walking sustainability, including a deep commitment to Dancing Rabbit Eco-Village and his relationships built there over the past four years. He will share his philosophy on several topics he feels passionately about, including emotional healing and conflict resolution in community and with children; loving more than one in committed, polyamorous relationships; and his business consulting, coaching, and otherwise supporting social entrepreneurs. See http://www.dancingrabbit.org

Feel free to join the conversation by calling AwakeNow! Radio's Guest Call-in Number: (718) 664-9218 OR sign in to our Show's chat room.