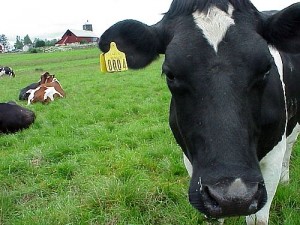 Iuval is frustrated with me because I won't share his shrimp lo mein at the Chinese restaurant. For the fourteenth time he whines, "I wish you ate fish," to which I chirp, for the fourteenth time, "I wish you didn't eat fish!"
"There's a hierarchy," he explains. "Fish aren't sentient beings! They don't feel pain!" I remind him of the study that was in the news recently, proving just the opposite. We are in a loop, fashioned by us, two people who are going to go right on eating (or not eating) what we want, and justifying our choices with whatever's handy.
Now, I'd get on board if Iuval were claiming cows aren't sentient beings, not that I want to eat one. I base my food choices on the handy bumper sticker, "I don't eat anything with a face!" But cows have never impressed me. Maybe it was my childhood, visiting my grandparents' dairy farm. Whenever I looked a cow in the eyes, and I checked often, I felt fairly sure that there was utterly (udderly, couldn't resist) nothing going on in that head. Absent, blank chewing.
Maybe I had some issues with how my grandfather would name each cow some variation of his seven grandchildrens' names. I'd walk up and down the isles of the milkroom reading my name repeatedly butchered on the chalkboards above several of the automated milking stations. This is weird when you're eight.
My younger sister Heather had a different reaction. She grew up to have some affinity for cows, even though she eats them. She also decorates her home with cow knick knacks and black and white blotched Holstein motifs. Mrrrr. Cute.
Cow fans may commence commenting now…