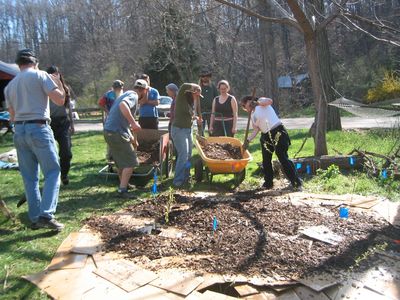 This series of workshops covers the whole Permaculture design course curriculum. Those who attend all 12 days and complete home study assignments, advising sessions, and a design project will earn the Permaculture design apprentice certificate. Students who are not taking the entire course may attend selected individual days or weekends. The dates and topics are:
| | |
| --- | --- |
| April 18** | Introduction to Permaculture |
| April 19** | Ecology and Biogeography: Chesapeake Bioregion Ecosystems and Restoration Strategies |
| May 9** | Water |
| May 10** | Soil and Nutrient Recycling |
| June 6** | Mid-Atlantic Food Systems & Annual Garden Design |
| June 7** | Sustainable Culture |
| June 27** | Sustainable Energy Strategies |
| June 28** | Green Building and Community Design |
| July 25 | Forest Gardens & Natural Pest Control |
| July 26 | Animals and Aquaculture |
| August 1 | Permaculture Design Presentations |
| August 2 | Feedback & Graduation |
**Open to students who are not taking the full design course.
Course facilitator Karen Stupski has fifteen years of experience with sustainable living and organic gardening as a member of Heathcote Community. She currently works as Development Director of the Gunpowder Valley Conservancy, a watershed organization and land trust, and is a Regional Organizer and Advisor for Gaia University. Karen holds a Ph.D. in the history of science, medicine, and technology from Johns Hopkins University. She will be assisted by a team of guest speakers and project leaders.
Taking Individual One-Day Workshops
This series of workshops has been designed so that people can easily sign up for individual days. The individual one-day workshops will run from 8:30 am to 3:30 pm. The flow of activities will be a mix of lecture, discussion, and interactive exercises in the mornings, followed by outdoor and/or hands-on skill building activities in the afternoon. Students are asked to bring their own vegetarian bag lunch. This is a great way to learn more about specific topics that interest you and to explore whether you might want to take the full design course in the future. Any days that you complete will count if you later decide to do the full design course at Heathcote in the 12-day format.
Taking the Full Permaculture Design Course
Students who want to earn their Permaculture design apprentice certification in the 12-day format must complete the following components:
Attend all 12 one-day workshops. The full design course includes the sessions described above plus an afternoon design skills session from 3:30 to 5:30 pm. Students are encouraged to stay at Heathcote Saturday night for evening film screenings.
Complete home study assignments. These will consist of readings and exercises. The required textbooks are: Introduction to Permaculture by Bill Mollison, Gaia's Garden by Toby Hemenway, and Toolbox for Sustainable City Living by Scott Kellogg and Stacey Pettigrew. Various articles will also be assigned.
Complete a Permaculture design for a site of your choosing. Most students in the past have chosen to create a design for their own home and yard. However, you may also create a design for a "client" such as a neighbor, a school, or a nonprofit. The design project will include a site assessment, concept plan, detail plans, written report, and an oral presentation with a visual display.
Complete advising sessions with Dawn Shiner of Dancing Green. You will have one phone consultation as you begin your design work which will include review of your site assessment (which you much submit to Dawn in advance.) Dawn will also be present for the design presentations at the end of the course. She will give feedback and guidance for the further development and implementation of your plan on the last day of the course before the graduation ceremony.
Tuition: $1,100 (does not include food, lodging, or books)