Heathcote Earthings is appearing at Baltimore's Beer, Bourbon & BBQ Festival, this Saturday, April 4th, from noon till 6 pm. We have great fun at this event, geared toward local microbreweries.
For those who enjoy drinking these artfully brewed beverages, and supporting local brewers, This is your event. This year's show features

So I can hear my regular readers saying, "Wren, but why? You don't partake, you don't eat Wilbur, so why?"
I admit there's my amusement at imagining some mainstream party dude waking up the next day with a beer, bourbon and bar-b-q hangover saying to himself, "Where did I buy a hemp toaster sham and a lavender smudge stick, and what do I do with them? And who put this goddess on the loose bumper sticker on my…?"
But really, the music rocks! Fun atmosphere. The microbrewers are such fascinating small business people to meet. And this is one of several venues where Heathcote Earthings brings fair trade and natural or recycled products to a wider population,  not yet be habituated to considering their impacts on others and the planet with their consumerism. We actively encourage our customers to own fewer, but better made things. And  the music rocks!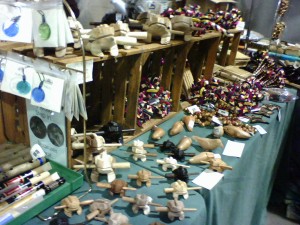 We expanded our collection of fair trade, hand made musical instruments for last year's Common Ground on the Hill Music Festival. And instruments are so popular at events like Beer, Bourbon & BBQ, where the live music draws music lovers and musicians.
Soon I'll be updating our schedule of appearances on the Heathcote Earthings tab, above. We'll be adding more music and green festivals this year. If not from us, consider fair trade in your gift and personal shopping. I recently discovered that there's a new Ten Thousand Villages store in Kenilworth Mall, Towson, Maryland, in addition to their Fells Point location. Earthings carries an extensive line of TTV's well made goods.
I'll be at the Timonium Fairgrounds, under the grandstand, setting up all day Friday. Then on Saturday I'll pack a lunch, because this event is not vegetarian/vegan friendly. But I'm so glad to be rolling out my jewelry, gemstones and fair trade hats, purses, housewares, incense, carvings, etc., for a new festival season!
__________
What I'll be missing this weekend at Heathcote Community is the annual membership meeting of School of Living, the non-profit that holds our land in trust, as well as other intentional communities' land in Pennsylvania and Virginia. If you'd rather skip the booze and flesh fest and learn about land trusts and intentional community, you're very welcome to attend all or part of the weekend. Please call (814) 353-0130 if you plan to attend and if you are bringing children.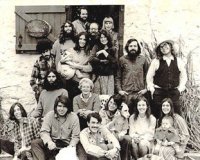 SoL is sponsoring a Heathcote Reunion, July 2-5, 2009, at Penn Grove Retreat in Hanover, Pennsylvania. If you have lived at Heathcote and would like to attend, contact Larry Baer at (443) 852-4569 or email at elbaer@live.com.
There is also a Friends of Heathcote/SoL group on facebook!
To keep up with events at Heathcote, check our site regularly, and if you're on facebook join TRIBE: Choosing Intentional Community. If you're on gaia.com, there's a TRIBE: CIC group there, too! I love turning green/activist types onto gaia.com, so check it out!