Wren on January 24th, 2009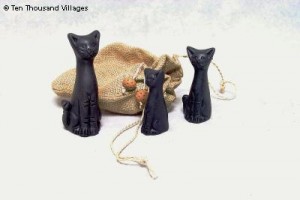 Fair trade has arrived at the World of Pets Expo. This is Heathcote Earthings' first year at the Expo, in its eighth year. and I'm glad we took the plunge!  This is a huge, hoppin' event! What fun to serve customers walking all manner of dogs. I've been offering a "sheltie discount" in honor of my own, but no shelties have taken me up on it yet!
I'm in a huge room of mostly pet related vendors, many of whom are giving away free samples. A neighbor gave me vegetarian dog treats, which Tuatha, Echo and Chance enjoyed so much that I can't currently find the package, to tell you the brand! Besides vendors, the organizers have set up agility shows, comedy shows and interesting workshops.
There's even a food vendor here with lots of vegetarian and vegan choices. I recognize them from the Spoutwood Fairie Festival!
I've moved many of our animal themed crafts to the front of the booth. I'm featuring our popular clay cat trio, pictured here. And I'm discounting some purses and ornaments and other crafts left over from the holiday season.
So come on out to the Timonium Fairgrounds and look for our tent hoops over the crowd, decorated with batik flags of dragons, fairies, etc. See you there!