Wren on January 9th, 2009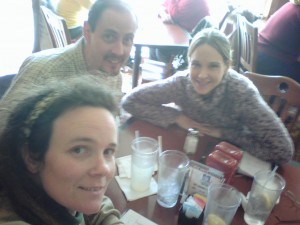 I've just gotten back from a "power lunch" with my HippieChickDiaries.com IT team! Paul Phillips, Roni Noone and I are ready to take this site to the next level, bringing my complicated adventures in simple living to a larger audience.
We met at the Red Brick Station in White Marsh, Maryland. Roni, our blogging expert, posts about dieting so she knew this eatery would have a few nice vegetarian choices for me and Paul. He and I were wondering whether Red Brick Station would have any vegan choices, or if all the dishes would contain meat and/or cheese. I was pleased to see a couple of vegan options, although I was frustrated that all their salads come with meat. Roni ordered what I was about to order, the Katie's Veggie Wrap, and she showed me a better way to have it: She substituted steamed veggies for the chips/coleslaw side. I copied her and had a guilt-free, feel-good meal.
A couple of years ago, I lost about 50 pounds. I did it the realistic, hard work way of reducing my portion sizes, avoiding sweets, fats and empty carbs and exercising my ass off. Roni also lost lots of weight a few years ago and began to blog about her experience. Her site caught on and now she blogs on several sites full time, tapping people into resources to do real, not fad weight loss. Her company is skinnyminnymedia. Now she's using her knowledge to help HCD find and expand its niche audience.
Paul Phillips has lived at Heathcote Community with me for many years. Previously, he was one of my partners in my fair trade retail venture, Heathcote Earthings. He runs Co-OpTek, a software consulting firm structured as a cooperative. When he and Roni wanted to help writers communicate with their audiences through profitable blogs, Paul thought of me, having followed my writing career through the years. And so HCD became their guinea pig.
So how, you ask, do blogs become profitable? Yep, ads. Our long term goal is to hand select advertisers we want you to know about because we're excited about their product or service. In the meantime, you'll soon see context-based ads appearing in subtle corners of our pages. This means that, if I'm blogging lots about eating organic foods, you might see ads for organic foods. Also, because computers don't know any better, you might see ads for organic fertilizer or organic shampoo. I dunno. I invite you to surf the ads with your goddess-given discernment. I will also post about products I think are great. That you can take as my endorsement.
Also, I'll be forming an affiliate relationship with Amazon.com. So when I recommend the Communities Directory because it's just a crazy fine must have resource, you can click on a link and get your hands on one! You can link directly that way to the music I'm listening too, books I'm reading or recommending, etc.
Thanks to my readers for your ongoing support. HCD isn't a little girl any more!!!