Wren on November 30th, 2008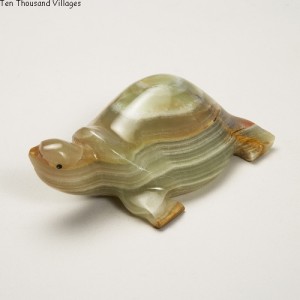 Heathcote Earthings is privileged to carry this elegant and whimsical collection of hand carved onyx pieces courtesy of the fair trade charity, Ten Thousand Villages. And we've expanded the collection for this year's Festival of Trees. We feature shapes that include plenty of curves to show off the varied striping and mottling of onyx–turtles, frogs, sleeping cats, elephants in two sizes, apples, pears, a disk tea light candle holder and a new item, a candle holder that cradles a tea light on one end or can be flipped to hold a taper candle!
What I love about these carvings is that, when they cut into a block of onyx, they never know what they're going to reveal in terms of pattern! It looks unique every time! Pale greens, blacks, browns, tans, whites, oranges, reds; cloudy, muted, mottled, striped, wavy, spiderwebbed, you just never know!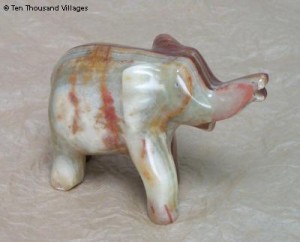 These pieces are a fixture in our booth. They make great gifts, so we offer a "threefer" deal: Buy three or more carvings and we'll take a dollar off each one. Each includes a gift box so they're holiday friendly. How about a turtle for you, a frog for that aunt who collects, an apple for the teacher and a candle holder for that person on your list you're not sure about?
Here's the background on this collection, from the Ten Thousand Villages site:
Dominion Traders works with underprivileged artisans who make stone and shesham wood crafts in the city of Karachi. It disperses orders to 20 independently owned and operated onyx workshops that employ between 100 and 150 people. Each workshop group owns its own equipment and rents or owns the facility. Most are family businesses employing several family members. These workshops are scattered throughout Pakistan, and employ artisans who speak different languages and practice different religions.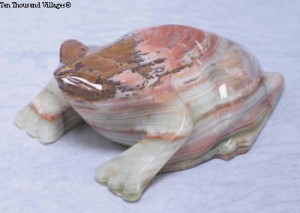 A notable feature of Dominion Traders is that people of different religions and creeds work together in friendly and cordial relationships. Ten Thousand Villages purchases carved stone items including lamps, animals, paperweights, bookends, vases, candleholders and chess sets as well as carved shesham wood coffee tables and nesting tables from Dominion Traders. Ten Thousand Villages has purchased products from Dominion Traders since 1983.