Wren on November 26th, 2008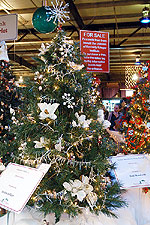 I'm up to my elbows in hacky sacks, recycled purses and bamboo xylophones! Heathcote Earthings has a choice spot next to the entertainment stage at this year's Kennedy Kreiger Festival of Trees, November 28-30 at Maryland's Timonium Fairgrounds! Last year, we had 20,000 people per day through the doors! The organizers came close to turning people away due to fire codes! Let's hope this year's party will be as big. Come on down!
I've expanded our line of fair trade purses, hats and scarves, including some winter treasures. I've restocked and added to our musical instrument department, all fair trade, too. And to keep you warm and "blessed be'ed" for the holidays, Native Scents smudge sticks and sweetgrass braids are back!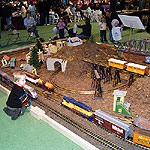 In these tough times, not all festival vendors are sticking with it. At the York Fair, we were approached by three different competitors who wanted us to buy them out. We obliged one, and now we have thousands of pieces of magnetic jewelry, the supercharged hematite strands that can be a bracelet, necklace, choker, headband, etc. We have an amazing array of colors accenting the hematite, from colored crystal to cloisonne to gemstones. And, with several sizes available, our bulk acquisition means we'll sell them at great prices!!!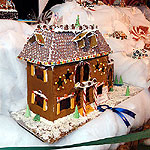 Like to collect elephants? We have onyx figurines in two sizes and clay elephant trios, as well as several stuffed elephant ornaments and elephant cloisonne jewelry. I've also found some fun new cats for our cat collectors! Pig collectors on your list will love our Peruvian three-legged lucky pigs, piggy bank and piggy bowl with spoon. Frog and turtle collectors will find treats on just about every table!
And in addition to our traditional tumbled stones and gemstone jewelry, we secured a breath-taking collection of animals, Buddhas, etc., carved from opalite quartz, a stone that takes light in, refracts it into soft colors and holds it in the shape of the carving. I love it. I kept a piece from the Crystal Cottage booth at the 2007 Maryland State Fair and when my friends brought more this year, I had to have some for Earthings, despite its high price tag.
The photos with this post are of other attractions at Festival of Trees. I'll keep you posted as things come together. Thanks in advance to my sweetie, Kathy Landers, and Regina Tessone for helping with the booth!