After a slow time at the Cecil County (Maryland) Fair, Heathcote Earthings is all set up in an extra large booth at the Howard County (Maryland) Fair. At this fair we feature a 3 table discount section, marking down damaged items and closeouts from the previous months! We've been to a Ten Thousand Villages sale and we got great prices on these angels and Job's tear rattles: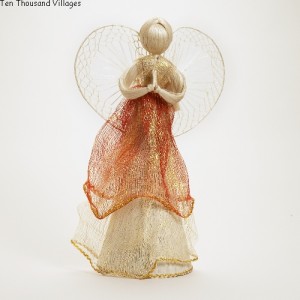 Tree Topper Angel, praying; abaca/sinamay10Wx17H natural/red/gold Usual retail: $24; Heathcote Earthings price at Howard County: $10.
From the TTV description: "…Sinamay is a natural woven fiber made from the stripped fiber of the abaca tree. The fine strands of fibers are woven into fabrics with a wooden weaving loom. The woven fabric is called sinamay. Sinamay fibers are also used for making cordage and ropes…"
This angel has earthy natural tans and a shiny red robe that will catch the lights around a Christmas tree beautifully! Get 3 or more for $8 each and give them as gifts!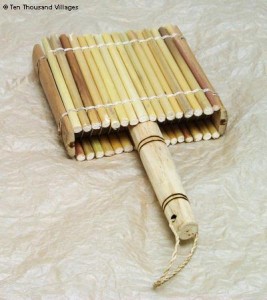 Umbrella Rattle with Job's Tears, umbrella stick/lily seed/Job's tears 5Lx1Wx10H Usual retail: $8; Heathcote Earthings price at Howard County: $4.
Details from Ten Thousand Villages: "…This rattle from Cameroon is made from a locally grown soft wood informally referred to as 'umbrella stick.' Inside are lily seeds and Job's tears seed that is produced by a tall, roadside grass that grows like a weed in tropical regions…"
Other values in our discount section include Gypsy Rose tams that got ever so slightly stained in the rain, Native Scents dream pillows and eye pillows, Super Hits incense, TTV birdhouses and much more!
Also, the gigantic order of pewter pendants we expected for Cecil County has finally arrived. We now have hundreds of new pendants in dragon, fairy, wolf, horse, eagle, bear, owl, cat, unicorn, butterfly, Kokopelli, hummingbird, pentacle, Celtic knot and other motifs, as well as many new colors and sizes of cloisonne wigglefish necklaces!
So visit us in West Friendship, Maryland, to catch discounts that won't appear again this summer, and to get first pick of the exciting new pewter!