Wren on January 24th, 2014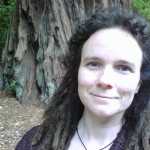 Why have the redwoods of Northern California caught my imagination, and what are they going to do with it?
It it their sheer size, their long lives, the history and trouble they've been through? I can tell I'm in the early stages of this relationship, so answers will follow a winding trail of discovery and more questions.
"The redwoods, once seen, leave a mark or create a vision that stays with you always. No one has ever successfully painted or photographed a redwood tree. The feeling they produce is not transferable. From them comes silence and awe. It's not only their unbelievable stature, nor the color which seems to shift and vary under your eyes, no, they are not like any trees we know, they are ambassadors from another time." —John Steinbeck
I've lived most of my adult life in the woods. I've spent unmeasured frozen time sitting, being with the living forest. It has defined me so much that when I left two years ago, I knew I would be diminished, in a spiritual coma, until I lived again in the woods.
I think it was five or six years ago that I was first brought to the redwoods by my friend Harold. We didn't have much time for sightseeing on our trip to a conference. But Harold made magical use of the time we had. I got to see Chinatown and Lombard Street in San Francisco, and yes, the primeval, monastery-like redwood forests. I notice as I type this, the repeated urge to give the word redwood a capital R, tall, formal and honored.
On that visit, I said that I could imagine living in Northern California, but I couldn't imagine leaving Heathcote Community in Maryland. It wasn't just the landscape, exotic to me, or the ocean. I felt I was swimming in a generally more tolerant and left-bent culture. Having lived in Kentucky and rural Maryland, I felt a relaxing of some emotional muscle in that environment. I hadn't known that muscle existed, or how hard it worked all the time.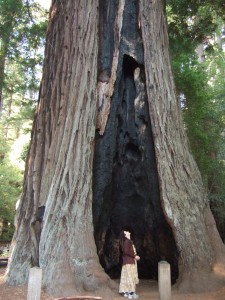 Years later, I visited again with my partner, C.T. Butler, as part of our Direct Democracy Tour, teaching consensus to Occupy groups. Occupy Chico flew us in. When we taught workshops at Occupy Wall Street, young activists often accompanied us to dinner, hoping we would treat them. In Chico, the more mature, experienced activists elbowed to get turns taking us out for meals, taxiing us around, holding fundraisers for our tour and presenting us with gift baskets. I could get used to this, I said. I need to live here…
And yet it seemed like a someday dream. The last year has been a slow motion, molasses-pour of looking for jobs, starting and stopping ones that sucked at our comatose souls, and caring for C.T.'s dying mom. We parked our house, our Fleetwood Bounder named Serenity, at a succession of friends' houses until we were offered a friend's rental house in a DC suburb.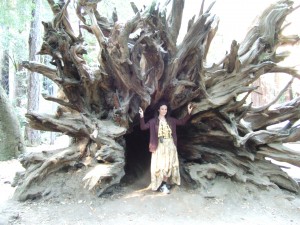 The yard has a steep, wooded slope, visited daily by deer. The forest will have me.
After yet another job offer disappointment, I sent C.T. a batch of craigslist postings from San Francisco. I was aware of the Salmon Creek Community for sale north of there, a property in a redwood forest that includes eight cabins and no zoning woes. So why not ask the universe for what I want?
C.T. responded to two of the listings before questioning the point, and reiterating that he should stop looking for a job. Ha. Not only did he get one of the jobs on the same day that his mother finally passed away, but he loves it and is finding it so much flowier a fit than those false starts on the East Coast.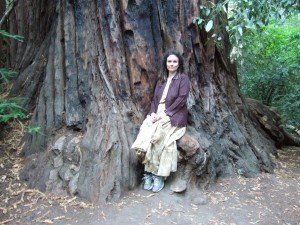 It's as if the universe was waiting for us to say, California!
Will our little collective be successful in securing Salmon Creek Farm and making it into a thriving Intentional Community once again? I hope so. We're working with our very adult relationships to intention and attachment, open to whatever. But whatever happens there, I'm planting myself in California.