Wren on October 19th, 2013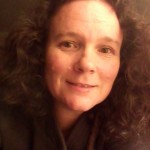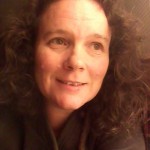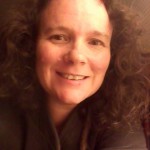 My mother's desire to be an accepting individual doesn't mean she's going to hold her tongue when she has an opinion. In fact, I guess we're a lot alike that way.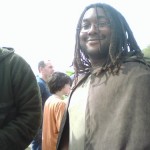 Even so, I found it ironic that, in the fifteen or more years that I've been carrying dreadlocks, she's often commented on the many nonlocked ways she likes my hair, and how those more socially acceptable ways show off my abundant curls. I find this ironic because she spent my entire childhood trying to comb out said curls, cut them into a bob, or at least train them into little wetted spirals held overnight with bobbie pins, making different curls than the ones that naturally sprout from my scalp.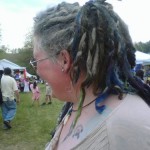 I got off easy in the girl-child-of-the-seventies-hair-torture department. My older sister had to sleep in juice can curlers. They weren't just the size of juice cans, they were actual juice cans with her long, straight hair wrapped around them. My younger sister, also cursed with straight hair, but tender-headed, was subjected to the curling iron.
My straight-haired mom went for perms every three months. The perm process took hours. The chemical smell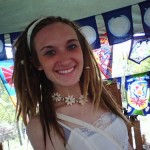 burned our eyes and left actual burns on the scalp as it burned her hair into whatever curl she wanted. Sometimes she'd dye the gray away, or go for streaks or highlights.
Given what mainstream folks do to their hair regularly, I'm perplexed at the occasional weird reaction to a gentle hair practice that involves no chemicals and is rooted in community, familial interaction and connection to nature. But I realize we're all coming from culture and what's familiar.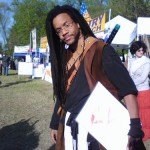 The other undercurrent of comments from my White friends and family is some good old fashioned curl coveting. If I'm not going to use them, someone else should have them, right?
I'm pensive about the zenophobia that seems to frame the rare brave comment. I was in an elevator in a library in Lexington, Kentucky. A woman asked me about my locks. "They're different," She concluded. "To you," I answered. She thought for a moment. "No, they're different," she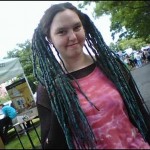 repeated. Her world was the entire world.
Although such comments are rare, some folks at the York Fair in Pennsylvania really laid it on thick. "You don't belong here. What country are you from?" My home of nearly twenty years was just twenty minutes from where I was standing, in the country where I've lived every day of my life, except for that summer in Spain when I was fifteen and that day my family drove into Canada while visiting Michigan.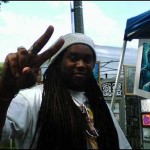 As a matter of fact, a few miles from the York Fair at Spoutwood Farm, I used to attend the annual Faerie Festival. That crowd, sometimes reaching ten thousand in a weekend, was the place where I was least different, surrounded by a high percentage of dreadlocked hippie folk.
After the first few years of carrying locks, I was long past concerning myself with the store security guard who followed me around or the eyes that might do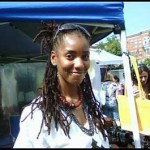 double takes when I entered a room. I was busy living my life. If people did have stereotypes, as soon as I would speak, it was clear that I was not stoned and that I had come to conduct serious business. I was never aware of my hair closing any doors that I wanted to enter.
But when I began spending time with my partner, C.T., he had an interesting vantage point, walking into a restaurant after me, or watching me in a parking lot. He would see every double take that I was missing because I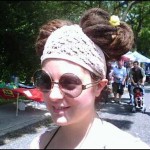 was just being myself, and didn't care. He made a game out of projecting what each onlooker was thinking. It reminded me that with every point of contact, I was adjusting each person's normal/different continuum.
I like the tradition of working (maintaining) locks as a familial or communal practice. When I started my first set, I threw a party and asked my Heathcote Community mates to start them. I got some feedback that this felt odd or self absorbed. So I established the next set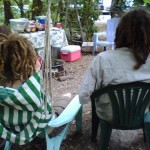 myself. I did teach C.T. to maintain my locks and when they grew so long and heavy that I was having neck pain, he ritually cut them for me, symbolizing also, the end of our time with Occupy Wall Street. Now he's helping me start a new set.
This is the set of locks I'll carry as I go gray, as C.T. and I go deeper in our relationship and our teaching of consensus. What new places and people will add their energy to these locks? Our dog will grow old and die. Will we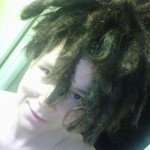 make it to California? Where will we put down roots and establish our consensus institute?
In this time of new beginnings, it is time to begin new dreadlocks.
—WT