Wren on August 13th, 2013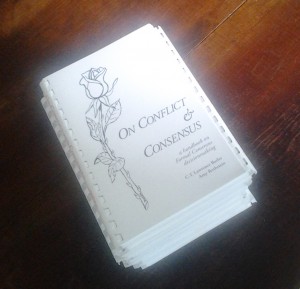 If you would like to have multiple copies of C.T. Lawrence Butler's On Conflict and Consensus for your group, now is your chance to jump in at a more affordable rate!
2012 was the 25th anniversary of this elegant text on having egalitarian, horizontal meetings. So far, print copy sales have well passed the 10,000 mark.
Fiopa Consensus Collective and Food Not Bombs Publishing are offering the seminal work in deep democracy for half price during August and September, 2013.
The usual cost is $15 per copy. This sale's 1/2 off discount begins at 5 copies, designed to help groups and individuals who want to spread the joy by gifting copies to friends!
Do you have the most recent printing? The current printing will say, "Third Edition—Thirteenth Printing," on the License and Attributions page. If your group is working from an earlier edition, this is a good chance to get current.
Here are discount prices for On Conflict and Consensus, with shipping/handling estimates: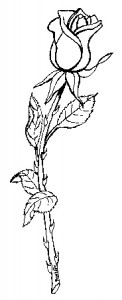 1 copy    $12.50 plus $3 s/h        $15.50 total
5 copies    $31.25 plus #4.75 s/h    $36 total
10 copies    $62.50 plus $6.50 s/h    $69 total
20 copies    $125 plus $12 s/h        $137 total
50 copies    $312.50 plus $20.50 s/h    $333 total
For exact shipping and handling costs, call 301-586-2560 or email us at fiopa@consensus.net.
Are you aware of C.T.'s latest book, Consensus for Cities? It details how to practice consensus in groups of up to 100,000 people, using an affinity group structure.
Consensus for Cities Discounts:
1 copy    $20 plus $3 s/h    $23 total
5 copies    $50 plus #4 s/h    $54 total
10 copies    $100 plus $6 s/h    $106 total
20 copies    $200 plus $12 s/h    $212 total
50 copies    $500 plus $20 s/h    $520 total
Pay by check (made out to "C.T. Lawrence Butler") or use Paypal, via C.T.'s www.consensus.net site.
What about Value-Based Consensus Workshops, Facilitation and Mediation?
C.T. is available for meeting and retreat facilitation and mediation for group conflicts. Contact us at fiopa@consensus.net to discuss your needs.
At this time we're limiting our consensus trainings to extended immersions. We are searching for groups that are interested in working with us to learn Value-Based Consensus in a long-term process. Stay tuned for updates on future workshop offerings!