Wren on February 7th, 2011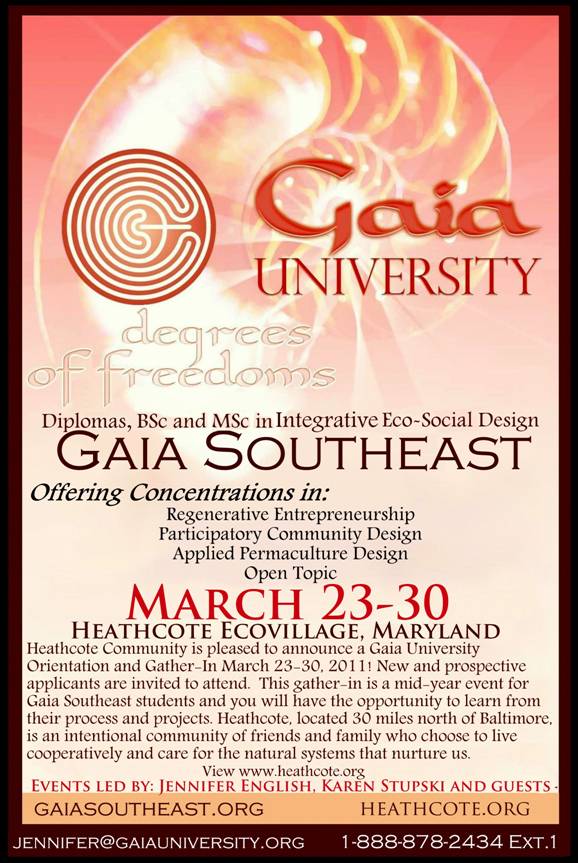 Come to our Gaia University's Open House!
Feb. 19, 2011, 1-3 PM at Heathcote Community
Learn about Gaia University, an institution for higher learning with a unique approach. The students (called associates) are able to earn accredited Bachelors & Masters degrees and Graduate Diplomas whilst being actively engaged in self and planetary transformation and ecosocial regeneration.  The Open House will provide an overview of Gaia University's action learning methodology and our programs in Integrative EcoSocial Design and Open Topic.  Heathcote is partnering with Gaia Southeast to host a Gaia Gather-In March 23-30, 2011.
Please RSVP by Feb. 16 by calling 410-357-9523
or email education@heathcote.org
Note from Wren:  Karen Stupski and I attended some of the first organizational gatherings of Gaia University at The Farm in Tennessee several years ago. I was electrified at the bold notion that our alternative culture could create higher education models that reflect our values and priorities. This is where I first encountered Spiral Dynamics and Action Learning. Gaia U founders Liora Adler and Andy Langford brought a clarity of vision that has propelled ideas into the realities of several learning pathways.
It's been exciting to watch this university without walls attract more and more students and more sites each year. Whether or not you are planning to enroll, consider this Open House as a way to learn about alternatives you can promote to the next generation, or even people seeking a career change. Imagine majoring in Permaculture or Facilitation instead of Business…—WT
Please join our Hippie Chick Diaries fan page on Facebook!