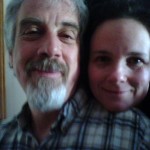 C.T. Butler makes me look good. It's my turn to cook the Heathcote Community dinner again and the consensus trainer/vegetarian chef and co-founder of Food Not Bombs is my guest and helper! Or more accurately on this day, I'm his helper.
Nearly all of the adult members of Heathcote take turns cooking dinners, which we share six nights a week. It comes out to cooking about twice a month. The rest of the nights, we just show up and get fed. Since we rotate, folks tend to make their specialties. So not only does someone else cook my dinner, but I get their best.
I don't profess to have a best.
I observe with bewilderment people who savor cooking as a hobby, a joy, a vocation or avocation. I didn't get that gene or whatever. Me, I like to eat well so I cook. I get no special creative satisfaction out of the process. Even so, since I like to eat well, I do know how to get a sparkle from my spicings.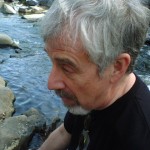 Cooking with C.T. is like taking a car ride with a war correspondent. We have consensed upon his traditional refried beans, a recipe that originated in El Salvador & Nicaragua.  As he casually chops onions and garlic, he tries to remember the recipe from his days of feeding homeless people and protesters with Food Not Bombs. As he slices proportions down to feed the twenty or so we're expecting, he's reminded of arrests and police beatings and stories start to flow.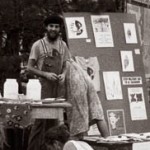 Food Not Bombs just observed the thirtieth anniversary of the occupation of Seabrook Nuclear Power Plant (May 24, 1980). The six activists who would eventually rent a house together and establish the first Food Not Bombs collective, were all protesters at that event. When one of them, Brian Feigenbaum, was arrested, the others literally started holding bake sales for his defense! I'm reminded of the t-shirt/bumper sticker slogan, It will be a great day when the schools have all the money they need and the Air Force has to have a bake sale to buy a bomber.

Thus started a food/activism connection for the collective. "Most of us worked in restaurants at the time, cooks, waiters, etc., and we knew first hand the mountains of food that's wasted," C.T. explains. At first, the group collected the restaurant and grocery store leftovers hoping to feed themselves for free, liberating time and resources for their activism. But immediately they could see that they had discovered a resource far beyond their own needs. "Of course, we were activists, so our values were to see the food get used where it was needed,"
This took several forms. The collective gave food away in Harvard Square, which established the non-violent direct action template that eventually prompted clashes with police in cities around the world and arrests for serving food without a permit (although their home town of Cambridge, Massachusetts was supportive, negotiating with FNB and eventually naming C.T. Peace Commissioner). Food Not Bombs also catered demonstrations and direct actions, feeding participants so they could stay on site long hours, keeping the protests going.
Thirty years later, C.T. stands in the Heathcote Mill kitchen, mashing the pinto and black turtle beans in small batches, because we couldn't find a masher with a long enough handle to reach the bottom of the pressure cooker. "I always say I'm mashing in the love, it looks violent but it's made with love," he smiles without stopping.
So many times, that sentiment has been spoken in this kitchen. I've heard many Heathcote members describe the act of feeding their community as one of nurturing and love. How broken and sad it seems to me that the FBI would eventually target Food Not Bombs as a "terrorist" organization. And that feeding the hungry would be viewed as a crime in dozens of cities over the globe, resulting in thousands of arrests of Food Not Bombs chapter volunteers the world over.
But right now, C.T. is feeding me and mine. As from that first Food Not Bombs collective house in Cambridge, Massachusetts, autonomous chapters operate by consensus. C.T. has written two books on consensus decision-making. And he's had a long friendship with Heathcote through his consensus workshops. This community's consensus on this meal is: forty thumbs up!