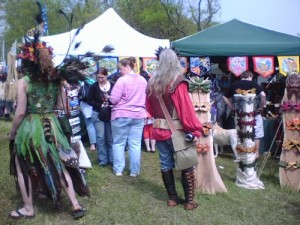 "At least it's not rain; a high wind is fine with me," I said to Fairie Festival organizer BiBi. Famous last words. Half an hour later, after four fairie volunteers had helped me wrangle/wring/wizard my three EZUp canopies open and into place, a very focused gust of wind tossed tent number three over my van and down the hill, as I was scrambling to stake tent one. Number three lay planted, like an evil, mangled flower, upside down in the middle of the field. I'm thinking insurance claim.
"At least it's not rain," I had said, because last year's Fairie Festival was epically tragic. I had planned to make the most of the weekend, hiring five helpers, renting four spaces and ordering tons of fair trade instruments and handicrafts, fun lefty buttons and bumper stickers, scarves, hats and handmade batiks. The Fairie Festival is always good to us, usually our best show of the year, bringing us the income early in the season to pay our booth rentals for the rest of the season. So I wanted to make the most of the convergence of Heathcote Earthings' wares with our core customer base (winged people).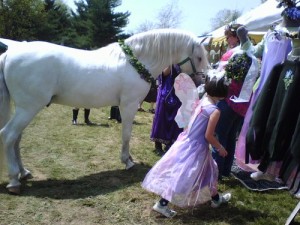 But an outdoor festival in the spring is a roll of the dice. And although I bet the house, last year was not my (or anyone's) year. A steady, heavy rain for the entire festival cut attendance to a fraction and left most of our inventory ruined. The five helpers got paid but there was no surplus to cover booth fees for the rest of the season.
Sunday night after the public had gone home, vendors, volunteers, organizers and Spoutwood farm residents gathered for dinner under tents. I could tell that the rain was as devastating to Spoutwood owners Rob and Lucy Wood, and to their programs as it was to me and mine. They, too, depend on this weekend each year to finance much of their educational work. The hundred or so people at that dinner were shell shocked and grim as organizers gave speeches thanking everyone and encouraging positive thoughts. I was warmed by sentiments expressed, that nature gives and nature takes; we were due for a year like this after many blessed ones; we would all land on our feet. Wren always does, but not Heathcote Earthings. That was the beginning of the end for this project.
We couldn't even pack up at the end as it continued to rain. My partner Iuval and I came back the next day. Still raining. We put the mess in the van and headed for Heathcote. I was thinking…insurance claim!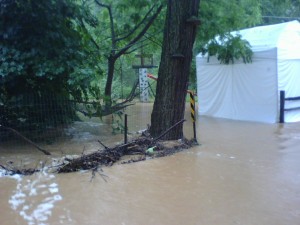 So a couple days later, when the skies seemed like they'd had their say, I put up my canopies on the Heathcote playground to spread things out, dry them, see what could be saved and what would be written off. Ha! This was the move the rain was waiting for. It returned, and with the ground already saturated, the Heathcote valley, yes, including the streamside playground, flooded.
The Community was at dinner on the mill's side porch. Someone mentioned that the flood waters were nearing my tents. "Oh I'm not worried. I have all the boxes up on tables," I said, as we began to see hackey sacks and maracas floating by. Water laughs at me, "You should be writing, you fool! What are you doing playing with all these toys? I'm giving them to the bay so you won't be burdened and distracted!"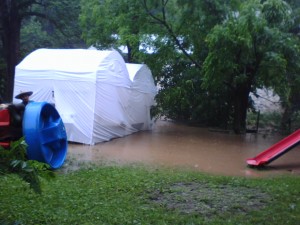 But I wasn't listening so Heathcoters were suddenly gone from their plates, knee deep in flood waters, carrying crates, boxes and displays to higher ground.
The five elements, water, air, fire, earth and spirit, can each be a blessing or a curse in different amounts and different moments. I realize now that community is a sixth element, and I am so often blessed with just the right amount of it. How can I ever give back enough to these wonderful people who, time and time again, are there beside me in the flood waters of my life? It is my joy to try.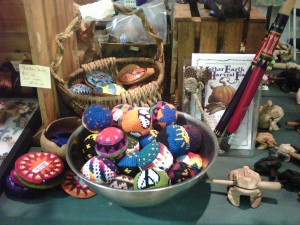 So, I don't know how many handmade, fair trade, seed filled hackey sacks are bobbing around the Chesapeake Bay because of me, but they're biodegradable. At least I wasn't stocked to the gills with those plastic dryer balls that reduce your drying time by forty percent. That would be ecologically unfortunate.
Now, as I set up my wares under a tent that looks like a giant bent, arthritic insect, I ponder my future. My associates and I have been on a slow track to closing out Heathcote Earthings to focus on writing projects such as the Hippie Chick Diaries book. The rain and the wind are just manifestations of my own inner Baba Yaga, torturing me, yes, but for the purpose of revealing my true potential to me. Let's make this year a wonderful, and final year for Heathcote Earthings! See you  there!
—WT
Spoutwood Farm Center Inc. is a 501(c)(3) Non-Profit Educational Farm
4255 Pierceville Rd. Glen Rock, PA 17327 717-235-6610
http://www.spoutwood.com/fairie-festival
Visit the Facebook Group page for the 2010 May Day Fairie Festival
http://www.facebook.com/event.php?eid=240582798598&ref=ts
Please join our Hippie Chick Diaries fan page on Facebook!