Wren on September 19th, 2009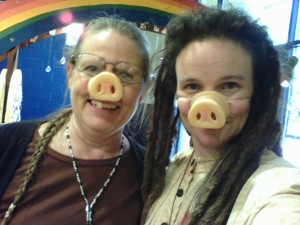 I was privately saying this would be our last year selling Heathcote Earthings at the York Fair. Sales have been fine, but when we figure in the high fairgrounds booth rental, the numbers weren't so impressive. But it seems the fair organizers have hired a consultant (I saw a car painted with that info on the grounds) and they've added new attractions. Result for us: a good year!
I was worried about our new location; The new circus took over our building and we were moved to Memorial Hall West, across from the restrooms. The across from the restrooms part, I like! But people are managing to discover us there, and remember us!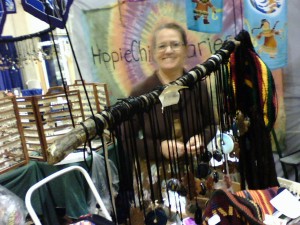 Each year at York, Rita Jane from Crystal Cottage helps me in my booth, after I spend eleven days helping the Crystal Cottage folks in their booth at the Maryland State Fair.
I appreciate having Rita Jane help because she's taught me much of what I know about jewelry making. She's been at it for twenty years.
This year she's been helping me catch up on restocking baltic birch, gemstone, pewter and cat's eye earrings. And we have a fun new collection of ceramic peace signs for pendants. We also have been reintroducing some lampwork glass and foil glass pendants, old favorites.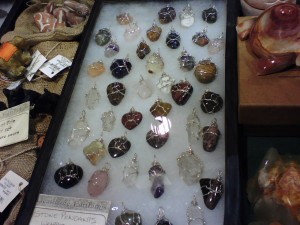 We finally have all this and sterling silver wrapped gemstone pendants on display at the York Fair, which runs through Sunday.
All our new shinies will be front and center for Mother Earth Harvest Fair at Spoutwood Farm in Glen Rock, PA on October 4th. This is the location of our favorite festival of every year, the Fairie Festival!!! Please join us for this up and coming fall version.
I'm organizing Intentional Communities to have networking/information tables at Mother Earth. So far, Heathcote, Twin Oaks and Acorn Communities are confirmed.
As I wrap up York and look to Mother Earth, many thanks to Rita Jane who's been my rock while I work full tilt despite a lingering cold. You make me look good!!!