May 29-31, 2009, Fri eve – Sun eve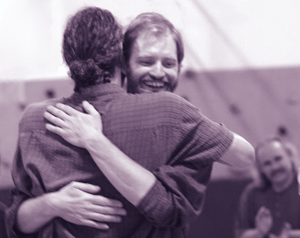 I have had the pleasure of attending the full Heart of Now course and I'll be an assistant when it is offered at Heathcote. For people searching for tools to understand themselves and communicate better, or for those who just need a safe container in which to sharpen the tools they've amassed over the years of self discovery, Heart of Now is an amazing opportunity!
—-Wren Tuatha
From the Heathcote page:
Heart of Now is about being who we want to be in the world. Throughout our lives many of us have been encouraged to hide our feelings and ignore our bodies. We're taught stories of how we're supposed to behave at school or work. We've been told not to make mistakes or certainly not to admit it. At Heart of Now we look with curiosity at the stories we've been told. We pay careful attention to our bodies and our emotions. We learn to listen to ourselves deeply and trust what is in our hearts. Heart of Now is not just about ourselves but about building community. When we are present and honest with ourselves, we open space for more intimacy, easier working relationships and creativity which are the building blocks for creating a better world.
Debby Sugarman has been involved with Heart of Now since 2001. Her process work includes Co-Counseling and Non-Violent Communication. She has been trained in Zegg-style Forum facilitation, Dynamic Facilitation, Consensus facilitation, and public process facilitation. Her mediation experience and training includes Community Mediation, Small Claims Court Mediation and Restorative Justice Mediation. Her co-facilitator will be Lisa Stein or Kim Krichbaum.
Tuition: The cost is $300-$600 sliding scale. A fee of $200 is requested when you register. The rest of the fee will be due by the end of the course. A limited amount of financial assistance is available. Please inquire about this if the fee is a barrier to being able to join us for the weekend. The cost will include lodging for 2 nights and all vegetarian meals. An extra $10.00 per night is requested if you want to reserve a private sleeping space.
To Register: You can register by contacting Debby Sugarman at 716-479-1490, dsugarm@efn.org. For more information about Heart of Now, please visit www.heartofnow.org.