Wren on February 22nd, 2009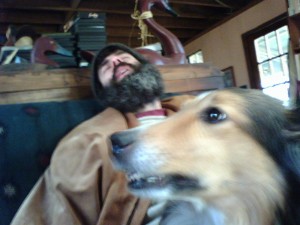 In the short months that Iuval and I have been living and traveling together, our dedication and devotion to each other has felt natural and flowy. We've swished a strong stream of NRE (new relationship energy) everywhere we've been, enough to sicken and annoy even the most hopeless romantic among our friends and families. But NRE can form between lots of people. It appears; It disappears. What about devotion that stays? You know you're looking at that when your mate cleans up your dog's vomit. Repeatedly.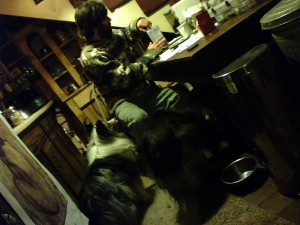 We are polyamorous so, over time, I've had a few lovers, women and men, for overnights and they're always friendly, civil and accommodating to my two shelties. They tolerate the dogs' shrill barking at the door, begging to be petted, demanding that my guests throw an endless succession of tennis balls, shredded plush toys and sticks. They pretend not to mind when the pets climb on the couch and into their laps. The occasional visitor is even a true dog person and appreciates mine for their sportspersonship and vitality. Iuval bursts into giggles and baby talk. "They're sooo cuuute!!!" This, after he mentions casually that domestic animals, especially pets, are a symptom of our broken society, how we spend endless resources on beings that aren't even human, all because we no longer know how to make deep human connections. Here come more giggles and he's on the floor playing tug of war.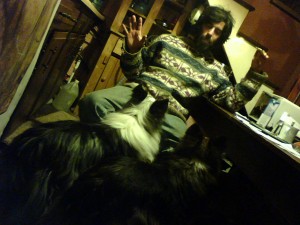 "Have the dogs been for a walk? They need a walk. I'm taking the goats and dogs with me to the barn…"
"Aww, the dogs want to go with us. Can we take them to dinner with us? They don't want us to leave them! Oh, I feel so bad, leaving them!"
"Have you fed the dogs yet? Why not? You're so mean. Look at them; They're hungry! I'll do it!"
"Move over on the couch. Tuatha wants on. He wants to cuddle. There. Move a little more…"
"I feel so bad, kicking them out of bed. They just want to cuddle and be with us. I know it was my idea but maybe they can just snuggle under the covers for a little while…"
"Look, Echo doesn't seem to feel good. Maybe it was that deer bone. Oh, she threw up. I got it. No, don't bother, I'll get it. Does she need some medicine? Ohh, you feel baad…You soo cuute!"
__________
There's "love me, love my dog." Then there's "love me, love my students." When my Open Classroom students came for our Inauguration Day party, they brought a play they wanted to act out. They wanted me to play the mom but I resisted on grounds of typecasting. I insisted that Iuval play the mom. I even had a costume dress that I knew would fit him. Let's not get into how I knew that. Not only did Iuval accept the part and play it with gusto and nuance, but he kept the dress on for the rest of the party!
There's something about his ability to enter all aspects of my life as if he's always been there and is shocked by nothing, loving what I love, that makes this feel just like home. Today, for my birthday, he's making me a chocolate/chili cake, inspired by the Mayans.