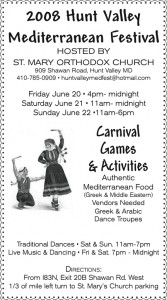 Heathcote Earthings just discovered a charming three day event north of Baltimore! Join us for the Hunt Valley Mediterranean Festival at St Mary Orthodox Church, 909 Shawan Road (just west of I-83 off exit 20). Organizers Kay and George have been very gracious to squeeze us in last minute and give us a nice booth location. You'll see our tents draped in batiks of dragons and fairies as you drive in! I am so looking forward to the Mediterranean food, which often includes a few nice vegetarian choices, and the music and dancing.
I must admit, even though I complain about shlepping boxes of rocks all over creation, I do love a festival atmosphere and I have a great job that gets me out of the house and bouncing to some kind of music every weekend!
Giving you more notice, let me call your attention to another wonderful music event, Common Ground on the Hill, at the Carroll County Farm Museum. Tom Paxton and many other great roots musicians are featured this year, and this event always draws an exceptional collection of artist vendors, several notable clothing vendors, and me! But the music is the reason you'll want to come. Common Ground on the Hill always has at least three or more food vendors with vegetarian and vegan choices.
This year Common Ground on the Hill is starting a "Green to our Roots" area, with green non-profit information tables. Heathcote Community has been invited. Organizers are waiving the booth fee for non-profits this year (a $100 value), so if you're a green group and would like to participate, check out their site!